Here are a few of the ways Garfield Memorial Church helps you stay connected to God, God's people and our Pastors throughout week and on Sunday mornings.
Sunday Online Worship
Prayer for the Upcoming School Year - Monthly via Zoom
We made a call out to all parents of school-aged children, teens or current college students... Your pastors, House of Prayer Team members and others at Garfield Memorial Church have been praying for you during this time of uncertainty and anxiety with the upcoming school year. We hosted a Zoom forum for family and friends of Garfield Memorial Church on Tuesday, August 11th from 6:30-8:00 PM EST so that your pastoral team could pray for you, so that you could share and listen to and support one another and to discover any ways that the church might be specifically helpful at this time.
In light of the response we are going to offer monthly gathers to pray and share. To receive information on upcoming gathering / links please email Pastor Chip at chip@garfieldchurch.org or use the form found on the events page (link below) and mention where your students are enrolled at school
Virtual Summer Camp
Weekly Ministry Opportunities
House of Prayer
House of Prayer hosts a conference call Monday nights from 7 PM to 8 PM. The conference prayer line is 339-209-5473. (No access code needed)
Monday Musings
One or more of our pastors will host a 10-20 minute gathering to start your week beyond worship at 8:00 AM & Noon on Facebook Live at facebook.com/garfieldchurch
Biblical Strength Training
Tuesdays & Thursdays @ 7:00 AM Via Zoom
Ephesians 6:10-20 & 1Timothy 4:13a is this group's missional Scripture. Our goal is to build each other up in physical & biblical strength so that we can put on the Whole Armor of God. The format is 10 exercise movements, each done for 40 seconds, then 20 seconds of rest. During the 20 sec rest break, Bible verses are read aloud. Near the end of the session, participants share their Holy Spirit discernment of the verses heard, prayer requests, etc. Bible + Exercise!
This is for all: any ability level, any age, couples, parent/child. There's no cost or equipment needed to join our 1-hour Zoom session. Contact Flora.K.Mark@gmail.com to sign up and to get information on how you can participate. There is also a private Facebook Group for Biblical Strength Training participants.
Worship on Wednesdays
Faith on Fridays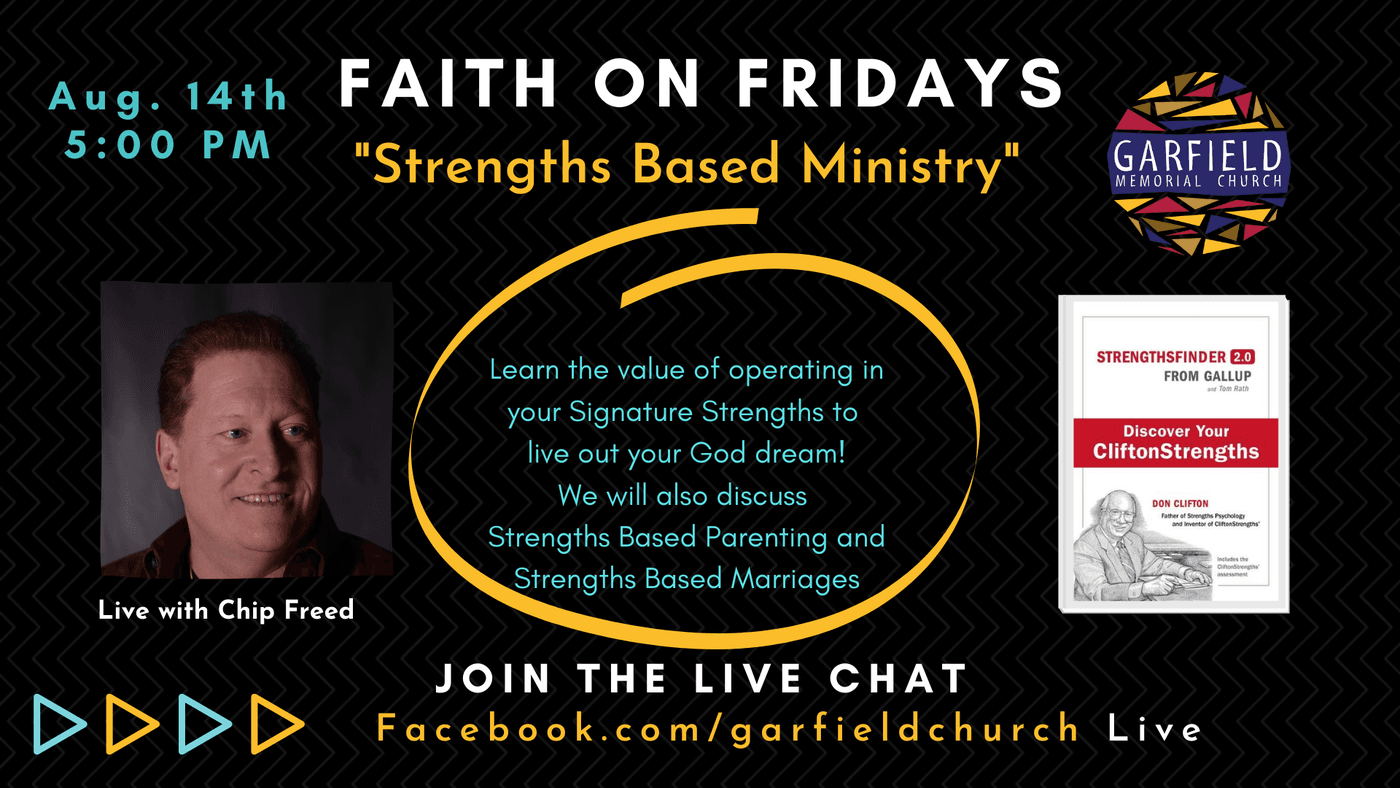 Faith on Fridays are devotions led by members of our pastoral team at 5 PM to wrap up the week and head into the weekend & Sunday Online Worship. These weekly gatherings happen on on Facebook Live. and you can also view on demand on Facebook and the Garfield Memorial Church YouTube channel.
Daily Devotional Readings
KidzSpace Children's Ministry
New KidzSpace content will be available on the KidzSpace YouTube channel and in the KidzSpace Facebook group every Sunday. Please consider joining the Facebook group and subscribing to our YouTube channel so you be notified as soon as a new video is uploaded. Contact Children and Families Pastor, David Thorne david@garfieldchurch.org
Youth Group
Youth Group meets online with Pastor Dre and Pastor Leah on Sunday Afternoons at 4:30. Email Pastor Dre at dre@garfieldchurch.org for additional details.
Virtual Connect Card
Please fill out the connect card to get plugged in further.