Shelter in God's Presence
Here are a few of the ways Garfield Memorial Church is helping you stay connected to God, God's people and our Pastors throughout the unprecedented and challenging times.
Sunday Online Worship
Monday Musings
One or more of our pastors will host a 10-20 minute gathering to start your week beyond worship at 8:00 AM & Noon on Facebook Live at facebook.com/garfieldchurch
House of Prayer
House of Prayer hosts a conference call Monday nights from 7 PM to 8 PM. The conference prayer line is 339-209-5473. (No access code needed)
Worship on Wednesdays
Faith on Fridays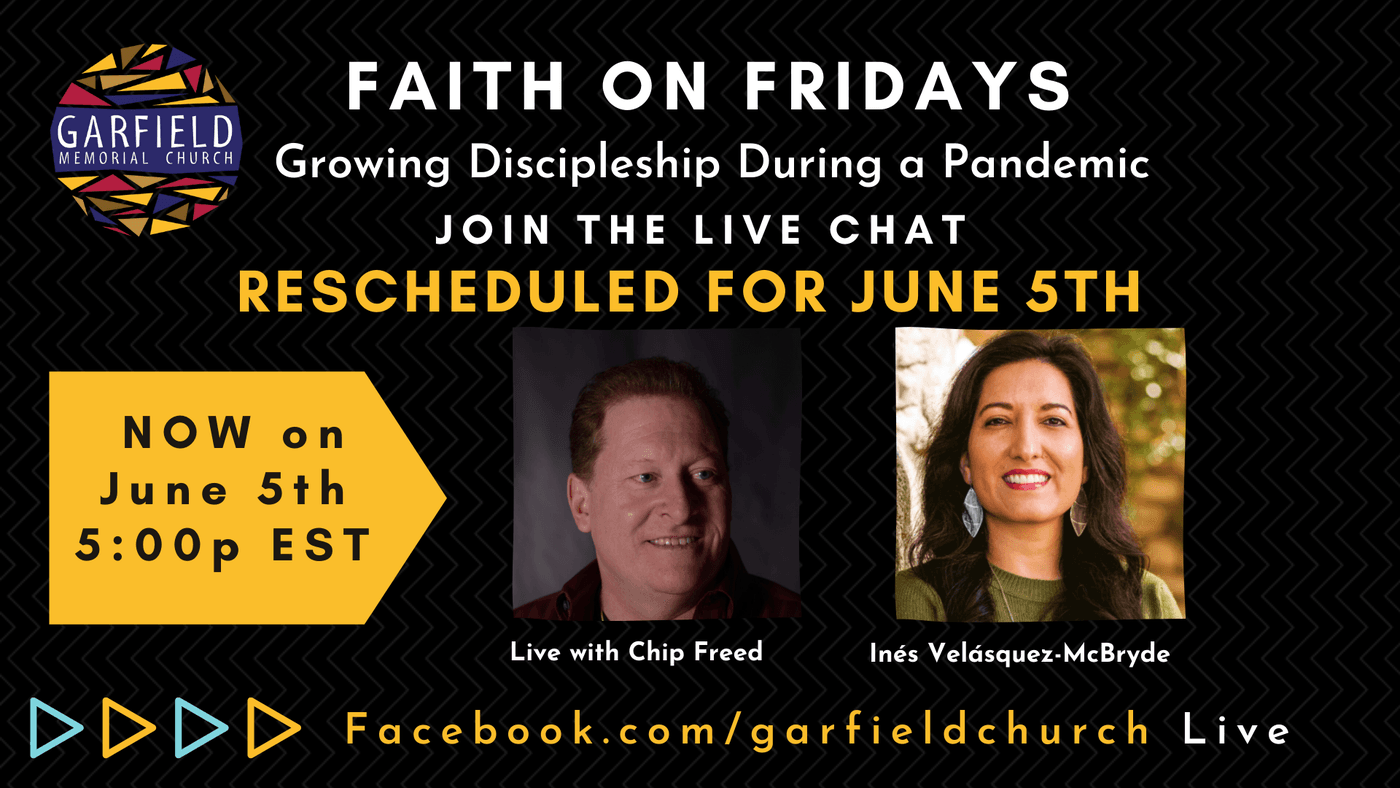 Special Format for June 5:
Noon Faith on Fridays will follow usual format of zoom room you can join or participate via Facebook or YouTube Live.
5:00 PM Faith on Fridays will be streamed live with national guest Ines Velasquez McBryde (June 5) talking about Growing Discipleship During a Pandemic with Pastors Chip Freed & Terry McHugh
Faith on Fridays are devotions led by members of our pastoral team at noon and 5 PM to wrap up the week and head into the weekend & Sunday Online Worship. These weekly gatherings happen on the Zoom (video conferencing platform) and you can use this link to join in via Zoom (below) or you can participate on Facebook Live. or YouTube Live (be sure to subscribe!)
https://bit.ly/GarfieldFaithFridays
When you click on the link above you'll be prompted to download zoom (free) or you can choose a link that will open in your browser.
Pizza with the Pastors
Join us on June 1 at 5:00 PM for Pizza with the Pastors. This is a live event where you can to ask questions and get to know our Pastoral Team as well as learn about the DNA of Garfield Memorial Church. You can join us in a Zoom room or via Facebook Live. B.Y.O.P. (Bring Your Own Pizza), Pizza with the Pastors is on the first Sunday of each month at 5:00 PM.
Join us here on Zoom on June 1, 5:00 PM
Join us here on Facebook:
Daily Devotional Readings
KidzSpace Children's Ministry
New KidzSpace content will be available on the KidzSpace YoutTube channel and in the KidzSpace Facebook group every Sunday. Please consider joining the Facebook group and subscribing to our YouTube channel so you be notified as soon as a new video is uploaded. Contact Children and Families Pastor, David Thorne david@garfieldchurch.org
Youth Group
Youth Group will meet online with Pastor Dre and Pastor Leah on Sunday Afternoons. Email Pastor Dre at dre@garfieldchurch.org for additional details.
Virtual Connect Card
Please fill out the connect card to get plugged in further.