Mosaix Regional Learning Lab
Work Smart. Avoid Mistakes. Gain Competence.
At the Mosaix Learning lab you will experience….
In-depth interaction from the Lead Pastor, Chip Freed, the pastoral staff, and lay leadership of a healthy multiethnic church;
An "under-the-hood" look into best practices re. diverse staffing, worship leading, prayer ministry, & more;
Appointments and meals with lay leaders and church members for no-holes-barred interaction.
Perfect for entire church staff teams, or denominational leaders seeking to accelerate the vision among the pastors you're working with in a specific conference, district, or region!
Attend our next Mosaix Learning Lab, September 24-26, 2021
The Learning Lab Details
Pricing
Includes 4 meals!
• $189/person
• $149/person for a group of 3 or more
Hotel
• Please use this link if you wish to make a reservation at the Courtyard by Marriott Beachwood Hotel at the conference rate of $101/night (plus tax etc.). You must use the link to get the group rate.
• Alternatively, you make a reservation at an area hotel of your choice.
Transportation
The Courtyard by Marriott Beachwood hotel is approximately 30 minutes from the airport. We suggest that you use Uber, rent a car, or otherwise arrange to ride with other attendees that rent a car throughout your stay.
Schedule
Friday, September 24, at 5:30 PM through Sunday, September 26 at 2:45 PM.
See below for a detailed schedule.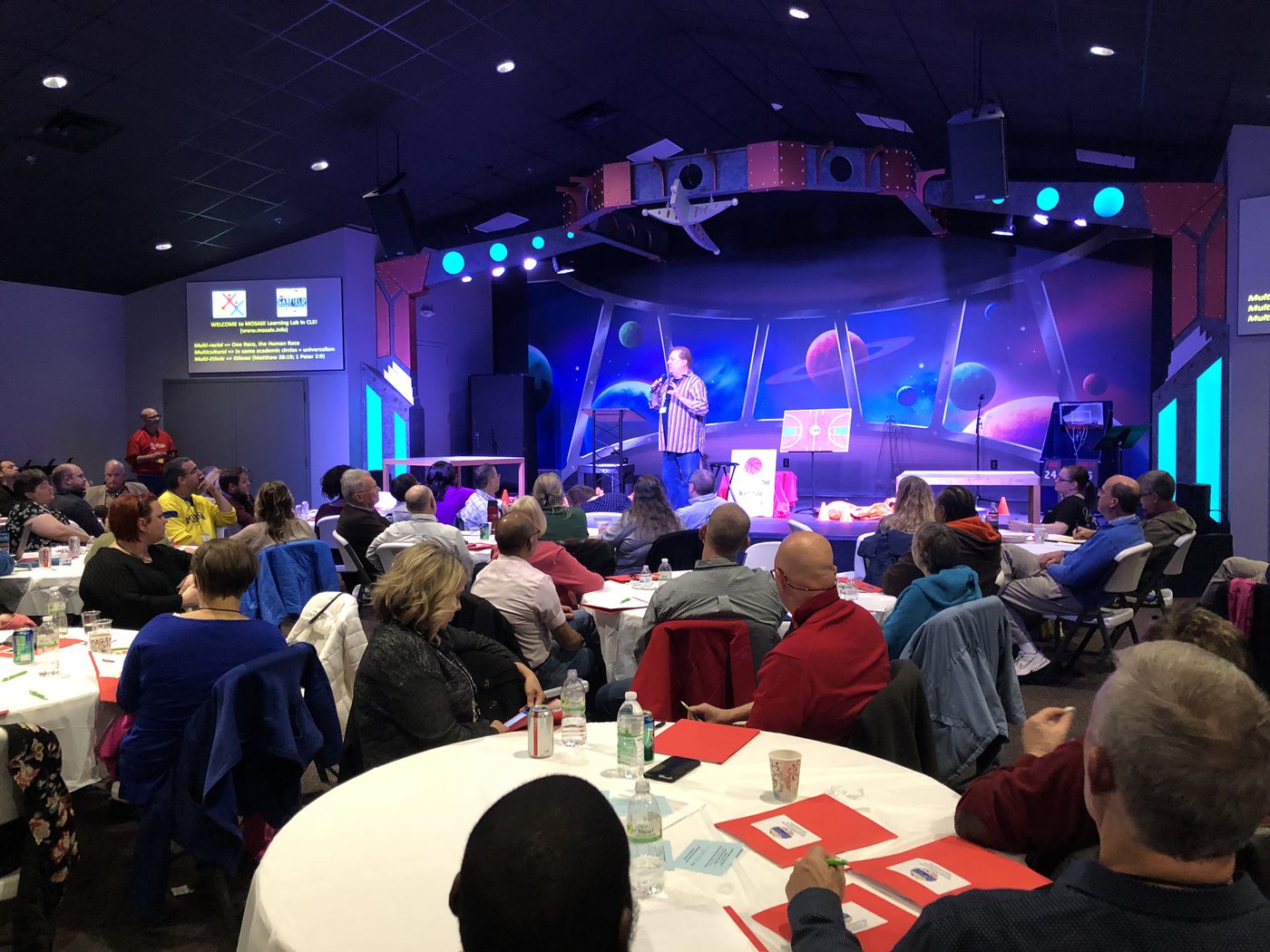 The Learning Lab Schedule
Day 1 - Friday
• 5:30p -Registration / Check-in at Garfield Memorial Church 3650 Lander Rd, Pepper Pike
• 6:00p - Dinner and Q&A interaction with staff and lay leaders of Garfield
• 6:45p - Building a Healthy Multiethnic Church Culture with Chip Freed
• 8:00p - Q&A
• 9:00p - Arrive back at hotel
Day 2 - Saturday
• 9:00a - Arrival at Garfield
• 9:15a - Developing Multicultural Competence & Hospitality with Kimberly Chapmon-Wynne
• 10:45a - Break/Facility Tour
• 11:15a - Multiethnnic Conversations with Kimberly Chapmon-Wynne and Garfield pastors
• 12:15p - Lunch: includes Q&A with staff and lay leaders of Garfield
• 1:30p - Building a House of Prayer for All Nations with Lori Stubbs
• 3:30p - Site visit to South Euclid Campus
Planting Multiethnic DNA and Growing Multiethnic MicroChurch Communities with Scott Blevins
• 5:30p - Arrive back at hotel
• 6:45p - Dinner and Q&A interaction with staff and lay leaders of Garfield
Day 3 - Sunday
• 9:00a - Attend Garfield (in any combination of 3 service options) & experience Baptism Sunday!
• 11:45p - Lunch and Q&A interaction with worship staff and lay leaders of Garfield focusing on worship and planning in a multiethnic context
• 1:30p - Leave for airport; departure flights should be booked to leave at 3:30p EST or later