Concerts for Missions
This Christmas season Garfield Church is excited to be hosting three benefit concerts for two great missions. See below for details.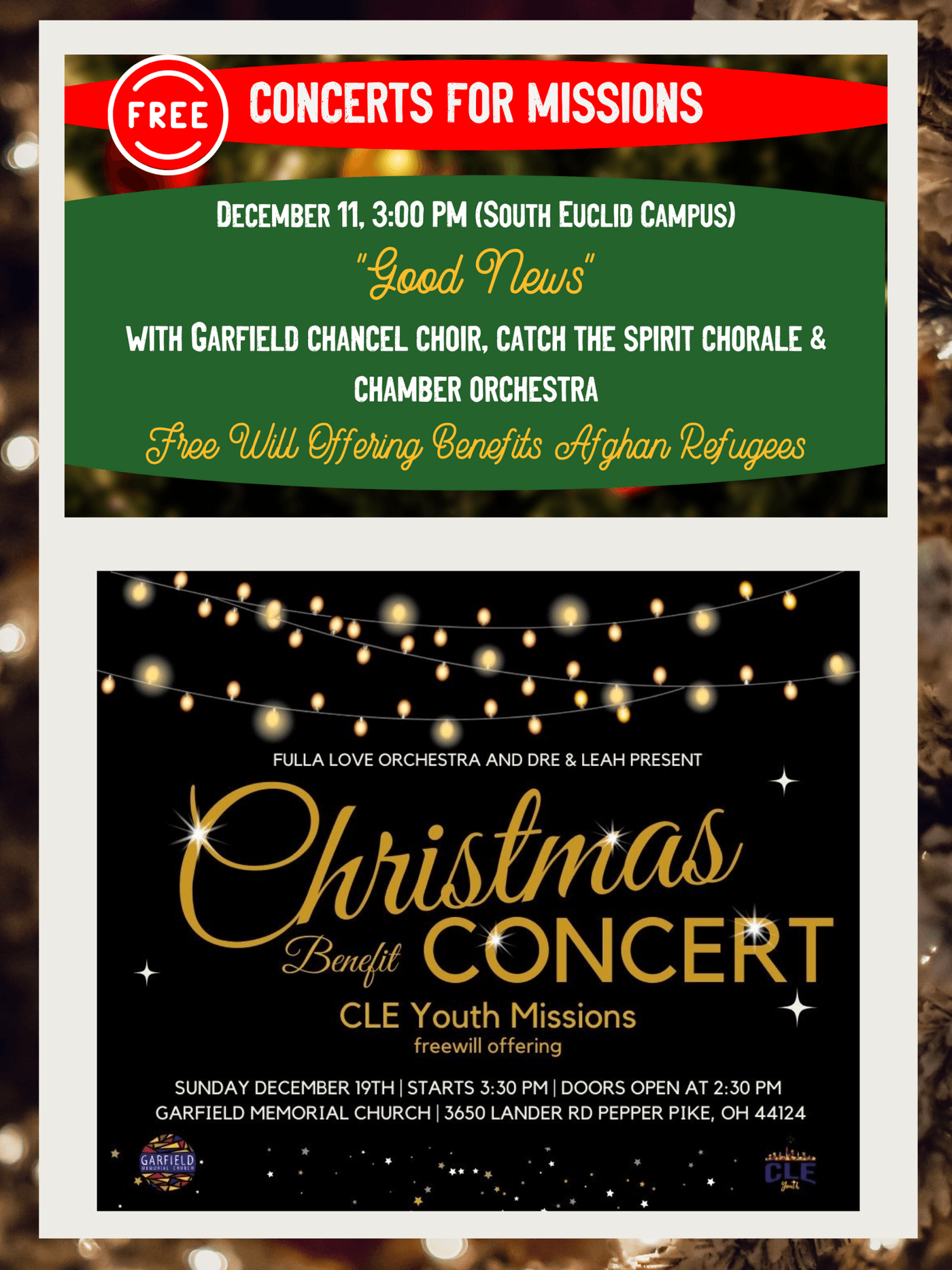 Supporting Afghan Refugees - November 20 & December 11
Nov. 20, 7:00 PM (Pepper Pike Sanctuary) "A Recital for Refugees" featuring vocalists Charles Piper, Marley Lieberman, and Teagan Amey, accompanied by John Simmons. This uplifting recital will include operetta, musical theater & art song. Learn more here.
Dec. 11, 3:00 PM (South Euclid Worship Center) "Good News: A Christmas Concert" with Garfield's Chancel Choir, Catch the Spirit Chorale & Chamber Orchestra.
A freewill offering will be taken at both concerts; donations can also be made at garfieldchurch.org/giving and choose the fund AFGHAN REFUGEE ASSISTANCE or by texting $___ REFUGEE to 216.242.1975.
Donations will go to the U.S. Committee for Refugees & Immigrants and go towards furnishing a home for a refugee family.
Supporting the 2022 Garfield Youth Mission Trip - December 19th
Dec. 19, 3:30 PM (Pepper Pike Family Life Center) "Christmas Concert" featuring Christmas and seasonal songs for all ages featuring Dre & Leah and the Fulla Love Orchestra with Fred Wheatt.
A freewill offering will be taken; donations can also be made at garfieldchurch.org/giving and choose the fund YOUTH MISSION TRIP or by texting $___ TRIP to 216.242.1975