Small Groups are one of the best ways to get connected at Garfield Memorial. Bible studies and other groups are available throughout the week. Currently most groups are meeting virtually. If you are interested in being part of a group listed below or have questions use the form below.
Current Small Group Options
Mom's Group
This group is for moms of children/youth of all ages. There are two options:
SUNDAY GROUP - 1st & 3rd Sunday of each month, 7:00-8:30 PM - meeting at the Pepper Pike Campus. No childcare provided. Space is limited and face coverings must be worn. No childcare provided. Begins April 18th.
THURSDAY GROUP - 1st & 3rd Thursday of each month at Becky Batchelor's house in Shaker Heights. All children welcome! Begins April 1.
To sign up contact Becky Batchelor at bbatchelor627@gmail.com, 215-205-5972, or use the form below.
Biblical Strength Training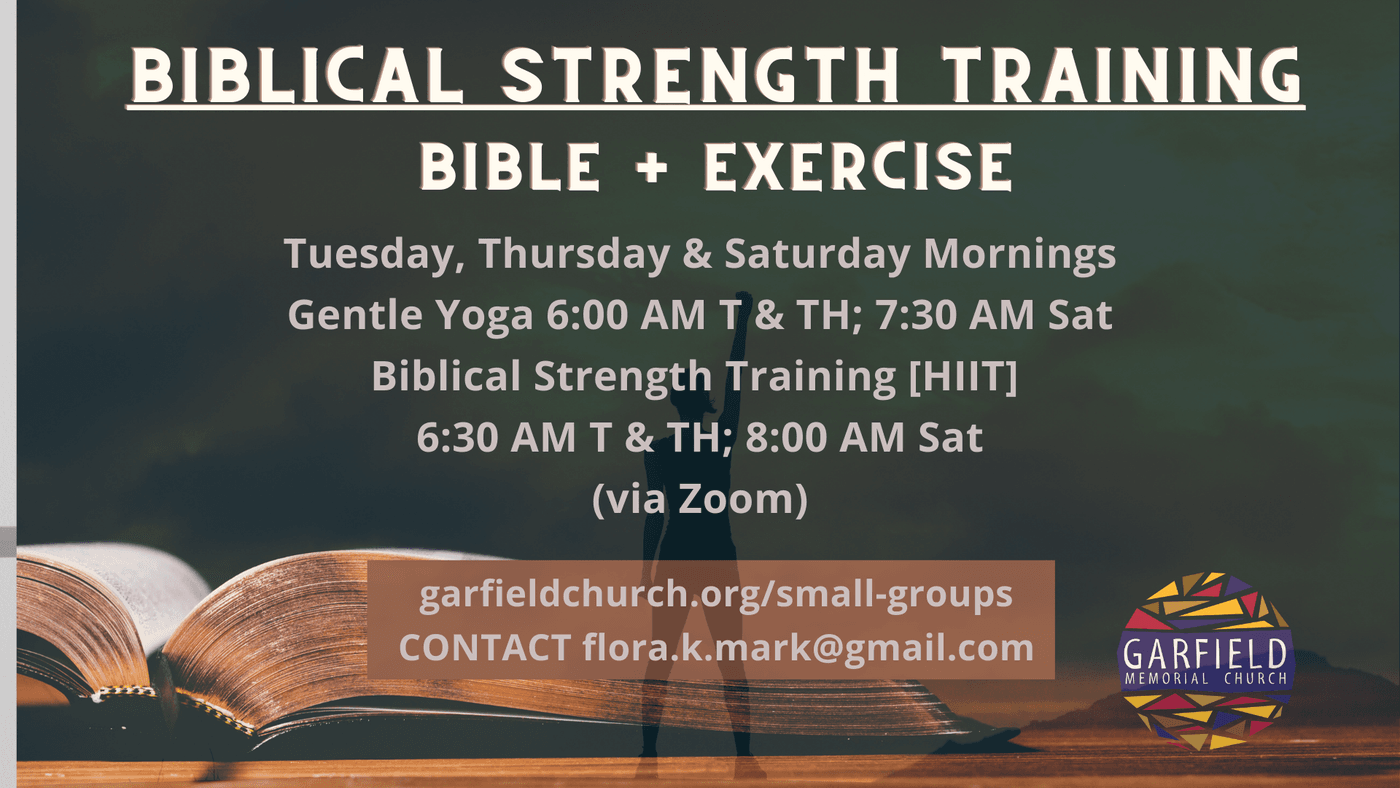 BIBLICAL STRENGTH TRAINING
Tuesdays, Thursdays & Saturdays Mornings
Gentle Yoga - 6:00 AM T & TH; 7:30 AM Sat
Biblical Strength Training [HIIT] - 6:30 AM T & TH; 8:00 AM Sat
BIBLICAL STRENGTH TRAINING
Ephesians 6:10-20 & 1 Timothy 4:13a is this group's missional scripture. Our goal is to build each other up in physical & biblical strength so that we can put on the Whole Armor of God. The High Intensity Interval Training (HIIT) format is different exercise movements, each done for 40 seconds, then 20 seconds of rest. During the 20 sec rest break, Bible verses are read aloud. Near the end, participants can share their Holy Spirit discernment of the verses heard, prayer requests, God Moments, etc. Bible + Exercise + Fellowship! We are excited to now be offering Gentle Yoga prior to every HIIT session. This is for all: any ability level, any age, couples, parent/child. There's no cost or equipment needed to join our Zoom sessions.
Contact Flora.K.Mark@gmail.com to register and get information on how you can participate. There's also a private Facebook Group for Biblical Strength Training participants.
BIBLICAL STRENGTH TRAINING
Tuesdays 6:00 AM - 6:30 AM Gentle Yoga
Tuesdays 6:30 AM - 7:30 AM Biblical Strength Training (HIIT)
Thursdays 6:00 AM - 6:30 AM Gentle Yoga
Thursdays 6:30 AM - 7:30 AM Biblical Strength Training (HIIT)
Saturdays 7:30 AM - 8:00 AM Gentle Yoga
Saturdays 8:00 AM - 9:00 AM Biblical Strength Training (HIIT)
Sign Up and/or Get More Info: