Online KidzSpace Children's Ministry
Parents, we want to partner with you to introduce your children to God for the first time.
We are continuing to find new ways to connect with kids and families, helping them learn about God's love for the first time. Whether you consider Garfield your church home, or are looking for ways to help your child learn about the Bible, we'd love for you to jump in and join KidzSpace.
There are 2 main ways you can connect with KidzSpace and keep updated on what we're doing.
Fill out the form below and we'll keep you updated on KidzSpace
Join our KidzSpace Facebook Group
Right now, we want to encourage your children in 2 ways:
We have a live Zoom call with kids every Sunday at 9:00 AM where we watch a Bible story and then chat about it afterwards. To join the Zoom call, share your info below. (Videos will be available through our KidzSpace Facebook page for Pre-K and K-5th)
Families can download a PDF each week that offers a few simple discussions they can have with their kids throughout the week.
100 Years From Now The Only Thing That Will Matter To A Child Is Their Relationship with God.
On Sunday mornings we have fun and engaging KidzSpace Children's Ministry (Pre-K through Grade 5) during all worship services. Nursery (6 weeks-18 months) and Toddler Care (18 months-age 3) is offered at all services. We have Inclusion Coordinators & soft rooms at both campuses for our children who learn in special ways.
Watch
Check-in/drop-off begins 10 minuWatchtes prior to worship services and ends 15 minutes after the start with LIFT OFF!
For more information contact:
David Thorne, Pastor of Children & Families
Upcoming Events
CHILDREN'S CHOIR
(Currently suspended)
Garfield has a children's choir. Rehearsals will be on Sunday mornings from 9:45 - 10:00 AM in the Community Room (room off the KidzSpace theater). The goal will be to have the kids sing during the 1st service about once a month. If interested, you can email Kelly Bhatnagar at kelly.bhatnagar@gmail.com. (Children's choir will resume once live worship resumes.)
About KidzSpace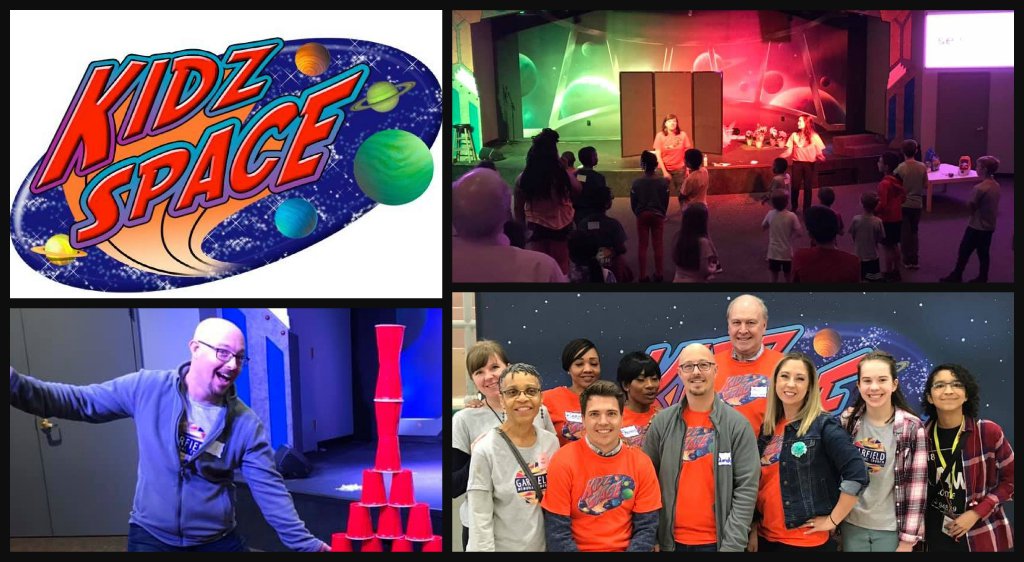 KidzSpace is a specially designed place for children age 6 weeks through Grade 5 to grow in their relationship with Jesus during all weekend worship services. Kids are met right where they are through powerful worship, engaging teaching and relationship-building moments. So, parents and kids, we invite you to join us on this life-long adventure and discover what God has in store for your journey today!
We use the Orange strategy. Orange is a nationally-known and widely-praised curriculum. (whatisorange.org) It is family-friendly and family-focused to drive home key lessons from God's word through fun and adventure and equips parents to be their children's primary faith builder all week long.