Widen the Circle
Our Mission
Connecting diverse people who share a common brokenness, with Jesus.
A Renaissance of Reconciliation
OUR CHURCH'S TEN YEAR VISION
In the next ten years, as part of this world's broken community, we will seek to become transformed by Jesus as we pursue a renaissance of reconciliation for all people while living into the beloved community together.
Use the button below to download the full document.
Our Values
SAFETY
Our church is a safe place where people can "ask, seek, & knock" (Matthew 7:7-8) without fear of judgment.
AUTHENTICITY
Our church is absent of pretense where people can be their real selves before God and others.
DIVERSITY
Our church is a community that reflects our community and the kingdom of God.
TRANSFORMATION
Our church is a community where we expect to grow more and more into the likeness of Jesus.
RECONCILIATION
Our church is a community that takes seriously Jesus' call to the ministry of reconciliation that only happens through justice, forgiveness, and ferocious love.
Our Strategy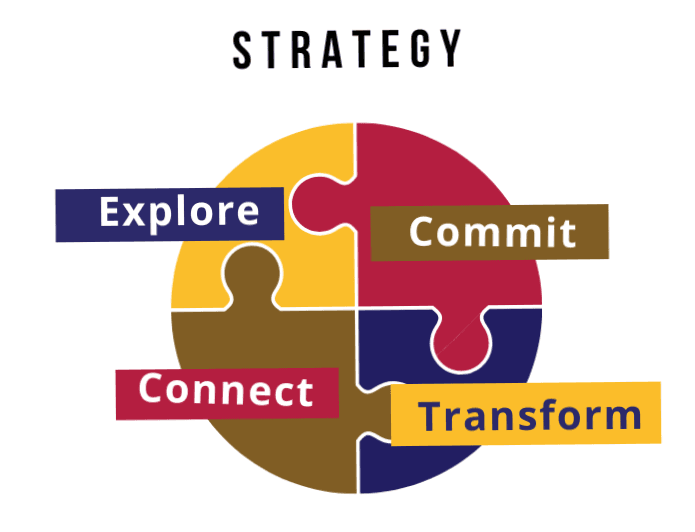 When someone comes into our church community, how do they grow into our mission?
EXPLORE
First, they EXPLORE. This means coming to a larger gathering, most often worship; although it could be a large event or for a youth it might be Youth Group or Kidz Club.
CONNECT
Then, they CONNECT. Normally this happens through a smaller discipleship group, On Ramps, Men's or Women's Group, Multiethnic Conversations, etc.
TRANSFORMATION
This leads to TRANSFORMATION. Not just becoming better informed but "transformed" (Romans 12:2) and being fully immersed into the mission of the church.
COMMIT
Finally, they COMMIT to the mission of the church through baptism, and membership where they support the mission through their presence, prayers, gifts, service and witness. .
Our Measures: Transformed to become more like Jesus
LOVE
How am I loving my neighbor the way God loves them?
HUMILITY
How am I putting the needs of others above my own?
SHARING
How am I sharing the good news of God's love for all people?
CONNECT
Do I have meaningful connections with diverse people?