february 24th, 2020
This Wednesday is known as Ash Wednesday and begins the season of Lent. Lent is an early church practice of spiritual preparation for Easter. The following is a brief description of Lent:
"Lent is a season of forty days, not counting Sundays, which begins on Ash Wednesday and ends on Holy Saturday (Saturday, April 11th). Lent comes from the Anglo Saxon word lencten, meaning "lengthen" and refers to the lengthening days of spring. The forty days represents the time Jesus spent in the wilderness, enduring the temptation of Satan and preparing to begin his ministry.
Lent is a time of repentance, fasting and preparation for the coming of Easter. It is a time of self-examination and reflection. In the early church, Lent began as a period of fasting and preparation for baptism by new converts and then became a time of penance by all Christians. Today, Christians focus on relationship with God, growing as disciples and extending ourselves, often choosing to give up something or to volunteer and give of ourselves for others.
Sundays in Lent are not counted in the forty days because each Sunday represents a "mini-Easter" and the reverent spirit of Lent is tempered with joyful anticipation of the Resurrection." (umc.org)
Here are some steps that we invite you to commit to for these forty days:
Join us at our Ash Wednesday Service at 7:00 PM in our Pepper Pike sanctuary. This will be our last message in our "From Vision to Values" teaching series. Pastor Lori Stubbs will be preaching on our Core Value of Forgiveness. There will be an opportunity for you to receive ashes or oil; and also to take something or someone that you need to forgive or something that you need forgiveness for, and literally turn it into "ashes" that night.
Join with other members & friends of GMUMC for a daily interactive online devotional with our Online Pastor Curt Bissell. Use this link to sign up to our Devotions for Lent from Holy Bible: Mosaic). Ground each day in scripture and share thoughts with other friends online each week.
Make a commitment to be in worship EVERY week of Lent and Easter for 7 straight Sundays. If you are traveling, sick or out of town, join us online (you can join us either via garfieldchurchonline.org or Facebook live. You can also always watch or rewatch past messages from our 10:00 Mosaic service in Pepper Pike via our website at garfieldchurch.org/media). Let your friends and networks know that you have made this commitment and invite for them to join you along the way some Sunday, either live or online.
Specifically think of one or more friends, family or acquaintances in your "village" who are not part of a regular church family. Write their names down now and begin to pray for them that they might be open to come to worship with you on Easter Sunday. Pray for how you might invite them in a loving and non-threatening way. Then, invite; but please pray first. Prayer opens doors in amazing ways. If you have someone come with you on Easter, please email me their name and address, and I will follow up with a hand written note of welcome.
Four Things for these Forty Days to grow and prepare to experience Easter in a whole new and meaningful way this year!
february 10, 2020
Most of us have probably been following the news of the outbreak of the Coronavirus. I was talking to a church member yesterday and we commented on how we had never even heard of Wuhan, China before; and it is a city with a population much larger than New York City! The World Health Organization is taking this virus very seriously and admit it is so new and so unknown.
What is striking is the fear that it is generating. While it is an escalating epidemic that has taken 910 lives out of the over 40,000 cases, the W.H.O. is quick to point out that its death rates are on par with the flu at a bit under 3%. One senior advisor stated that "the Coronavirus currently kills hundreds while the seasonal flu kills hundreds of thousands."
Much attention has been given to the cruise ship "Diamond Princess" that has been quarantined off of the coast of Japan. 135 individuals have been confirmed as infected with this virus currently. One American citizen who has been confirmed to be infected and is currently under quarantine in a Japanese hospital is a woman named Rebecca Frazier. Rebecca talked by phone with American media and shared that she is not even being treated currently and actually felt a lot worse when she had a recent cold. Her husband Kent has not been infected and is still on the ship, even though they were in close proximity to one another for days. What was most disheartening for me to hear was that since this diagnosis Rebecca and Kent have been subject to online trolling and abuse. Both called people's fears irrational and stated that they have received threatening messages to "not come home." Rebecca sighed and said, "People can really be nasty."
I could not help but contrast this with the attitude and actions of Christians in the Early Church during the outbreak of massive plagues. These were truly pandemics! Scholars guess that somewhere between 25-30% of Roman cities perished during these outbreaks. Dionysius, the early bishop of Alexandria reported that two-thirds of the population of that great city died during a plague epidemic. Pagan Roman citizens fled the cities during these plagues. Many of them casting out even family members and leaving them there to die. Christians, however, stayed behind to care for the sick. In many cases literally risking their lives or giving their lives to tend to those who were actually persecuting them. Rodney Stark, in his book, "The Rise of Christianity," records that it was one of the pivotal moments in the growth of the Church and the spread of Christianity throughout the empire. Scientists later explained that even simple care like a blanket and food and water increased survival rates in that time over ten fold.
What a testimony and legacy from our ancient ancestors of faith on how to conduct ourselves in times like these. Whether we encounter the fear generated by an unknown virus, or fears being stoked by national leaders with the intention of creating even more political, racial and class divisions, followers of Jesus Christ are called to "stay behind" and work for the kingdom of God – the true and only eternal kingdom. Viruses, plagues and empires come and go… history has taught us that. The reign of our Lord goes on forever. When fears rise, even within ourselves, take a lesson from our spiritual fathers and mothers and "stay behind" and work for the building up of love, justice, kindness and peace.
january 21, 2020
This past Sunday we celebrated Dr. Martin Luther King, Jr. Sunday, as we have the past 15 years at Garfield. Oneya Fennell Okuwobi was our preacher at all services (if you missed Oneya's message, or want to see it again, you can click here or look for it on the Garfield Memorial Church podcast). The founders of the movement to celebrate Dr. King by observing a national holiday on the 3rd Monday of January always said we should seek to honor Dr. King's selfless and sacrificial service to others by observing the "holiday" as a day "on," not a day "off."
This month we have been inviting you to take a "test drive" of a new volunteer role by going to garfieldchurch.org/testdrive and letting us know a volunteer role/ministry you'd like to try out to see if it's a good fit for you. (If you're not sure, you can select "Help me find a team to try out!" on the online or paper form.)
We set a big goal- we are looking for 200 people to "test drive" a new volunteer role from all our services! If you haven't let us know you want to be "one of the 200" yet please do so.
Won't you consider being part of the 200 and finding a way to serve all year long?
"Life's most persistent and urgent question is, 'What are you doing for others?"--Dr. Martin Luther King, Jr.
january 13, 2020
This past weekend, Terri and I drove north of the border to reset our batteries for what is sure to be an incredibly busy and eventful 2020. As an ex-athlete, I love sports movies, even if they can be kind of corny at times. Call it nostalgia. There is a baseball movie entitled For the Love of the Game where Kevin Costner plays a superstar pitcher on the back end of his career. For years he has a secret ability to clear his mind and utterly focus on the task at hand -- throwing strikes. In the movie, he can be on the mound in an utterly hostile place like Yankee Stadium and simply say, "Clear the mechanism" and the crowd would literally fade away. He discovered, however, that the older he got, the more tired he was and the more his joints began to ache, the more difficult that was to accomplish. I can relate!
Jesus modeled for us the importance of "clearing the mechanism." I would contend that in the history of the world no one had a more important job than Jesus. He wasn't running a business or overseeing a country, he was saving the world… and he only had three years to do it! Every single moment of his ministry was utterly crucial and packed with incredible purpose and significance. Yet, he modeled for us the need in the midst of the chaos and clatter to go spend time with his "Abba." He would be in the midst of a major crusade, tens of thousands for a feeding miracle, throngs coming for healing and hope and the disciples would have to search for him because he had slipped off into the wilderness or the mountains. The disciples usually found him huddled behind a rock in prayer with God. They would protest, "Don't you know that you're needed?! Everybody is looking for you!" Jesus never responded and didn't really seem to care.
The last two Sundays, Pastor Terry, Scott and I have kicked off the New Year by proclaiming that this year will be a year of "vision" for GMUMC – VISION 2020. We have invited you to pause and reflect on your own walk with God, your own response to Jesus' call upon your life to be a disciple… a follower and not simply a fan. To see, as Terry and Scott preached on Sunday, that you have been planted in this time, in this place, in this church, in your marriage or singleness, in your neighborhood, in your career or moment of retirement on purpose. As God said through Jeremiah in the messages yesterday, "Circumstances may have seemed to bring you here, but it was I that carried you here," says the Lord (Jeremiah 29:7, 14). So I urge you and us to take time individually and collectively amidst the busyness of our individual and collective lives to clear the mechanism and ask God for clarity in God's vision for our lives.
I must practice what I preach or else it's just words. So, as Terri and I sat on the Canadian shores of Lake Erie and prayed together, I was reminded of words from Susan B. Anthony who once said, "I distrust those people who know so well what God wants them to do, because I notice it always coincides with their own desires." Our prayer was and is, "What do you want to do Lord, through our lives, our marriage, our ministry." That was our first step in 2020 to clear the mechanism. I hope you will join us in disciplining ourselves to listen for the Holy Spirit's voice this year.
This Sunday, we will celebrate Dr. Martin Luther King, Jr. Sunday at all services at both campuses. Our preacher will be Oneya Okuwobi. Oneya is no stranger to GMUMC. This will be her third visit here! She and her husband "Dele" and daughter Candace will be with us on Sunday. They are launching a new church in Cincinnati called 21st Century Church and you will be invited to make a special offering to help jump start this new church (offerings can be made from Sunday through the end of the month – learn how on Sunday). Oneya's bio is below:
"Oneya Fennell Okuwobi is a Ph.D. candidate in Sociology studying race and religion at The Ohio State University. Oneya's research interrogates how diverse organizations impact racial inequality. Along with her husband, Oladele, Oneya is founding elder of 21st Century Church, a church plant in Cincinnati, OH. She is co-author of Multiethnic Conversations: An Eight-Week Journey toward Unity in Your Church. It is the first personal devotional and small group study on multiethnic life and church designed for people in the pews. You can find Oneya @Ookuwobi or Transcendculture.com."
january 6, 2020
On January 5th, we shared that the year 2020 will be a year of vision for GMUMC. In February 2007, Starbucks founder and Chairman of the Board, Howard Schultz, sent a memo to his CEO, Jim Donald, that somehow found its way on to the Internet. I received three copies of it that day from other entrepreneurial friends who knew I would want to see it. In it, Schultz expressed concern that his company had veered from its original charter. He felt that internal decisions had led to a dilution of what customers had come to expect from a visit to Starbucks (sales and plunging stock prices demonstrated this reality). Schultz urged his CEO to create a course that would lead Starbucks back to its original vision. The problem was this – America's premier coffee-drinking environment had drifted from its original vision.
This phenomena is known as "vision drift." It is so easy for this to occur. It is rarely obvious, but happens subtly, yet the results are deadly. Schultz said that he learned that there are three obstacles to making vision stick: Success, Failure and Everything in Between! Success can cause us to take our hands off of the wheel and failure can cause us to overcorrect. In short, vision can never be put on autopilot.
There are so many similarities in this story to the Church that Jesus gave his life to build. He gave the mission and cast the vision plainly – here is a synopsis of his charter commands prior to leaving Planet Earth:
"As the Father has sent me, so I am sending you. Go and make disciples of all nations, baptizing them… and teaching them to obey everything I have commanded you. You will be my witnesses in your immediate community, as well as in all of Greater Cleveland, in places that the world avoids due to poverty, racism and violence, and even to the ends of the earth. The gates of hell will not prevail against you, and remember I am with you always even to the end!" (John 20:21; Matthew 28:19-20; Acts1:8 – putting what "Jerusalem, Judea and Samaria" would be in our local context; Matthew 16:18).
That's it, that's Christ's vision for his Church. That's Jesus' answer to the question, Why Church? Yet, even by the time of John's vision on Patmos recounted in Revelation, the church had already drifted from it. The American Church has drifted from it continually which is why it finds itself with the declining numbers and impact today. For the last 15 years at GMUMC, we have worked hard to make this vision stick, but as Schultz also wrote during his 2007 Starbucks crisis: "Vision doesn't stick without constant care and attention."
In 2020, we are going to have our vision checked and give it careful care and attention. We will be seeking God's micro-vision for GMUMC for the next 3 years, and his more macro-vision for us for the next 10 years. We are urging all members and friends of GMUMC to pray for God's vision for this church and to take steps to go further in your own personal discipleship. We will be seeking advice from national consultants in areas of implementing mission / vision and building a business plan for longer term financial sustainability. We have experienced much of what the church world would call "success" these past 15 years. Yet, minding Schultz's perspectives above, we are not taking our hands off of the wheel. Nor, if and when we bump up against failure and challenges will we overcorrect. This is Vision 2020. Walt Disney, another great American visionary, invited people to become employees at Disney by enlisting them to be "visioneers." I think Jesus would have loved that term! Become a "visioneer" with us for the building of the kingdom of God this year!
PS: One way you can jump in as a 2020 "visioneer" is by enlisting as "one of the 200," willing to take a "test drive" in serving the mission of the church. We shared about this on Sunday. Learn more at: https://garfieldchurch.org/testdrive
december 16, 2019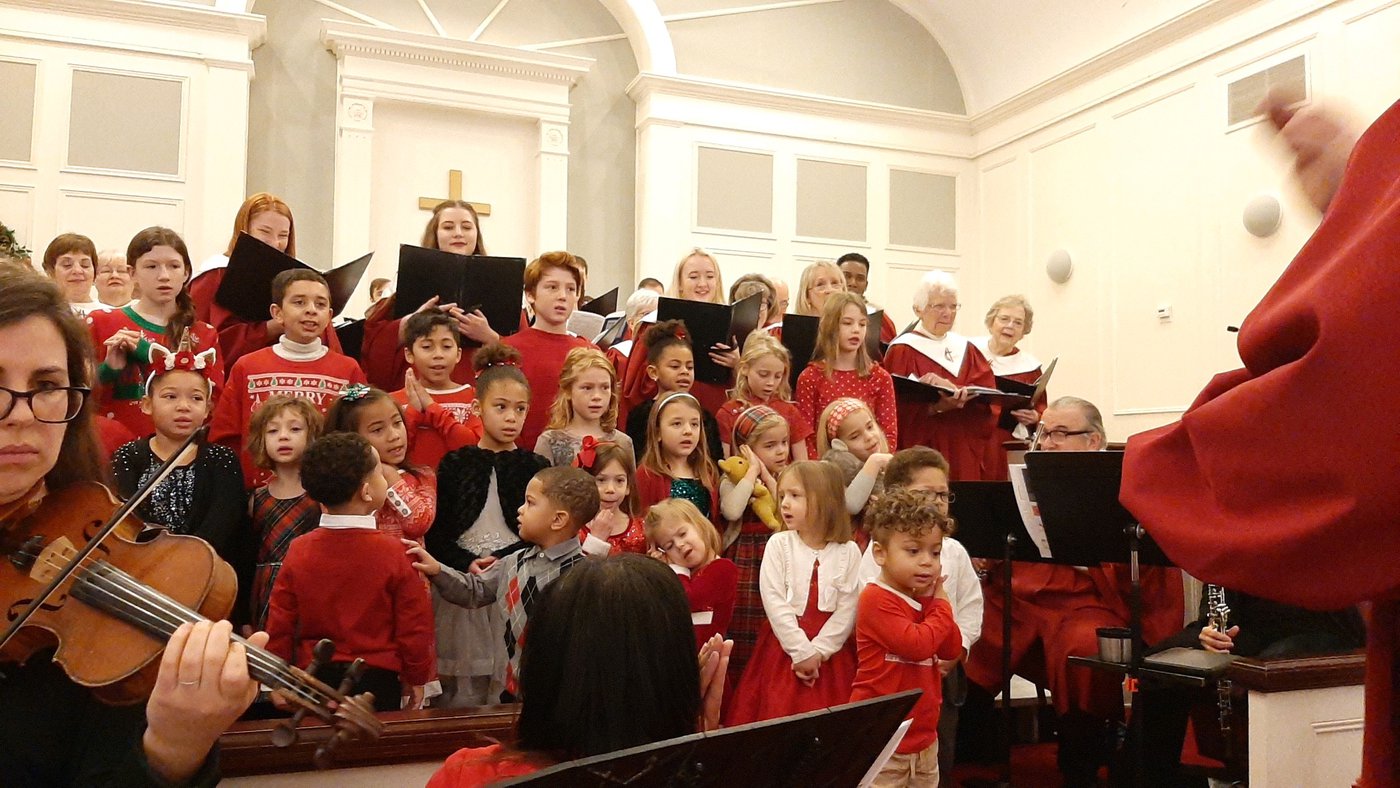 There is a Christmas theme that I have been contemplating. It is "finding favor with God." When Mary is visited by the angel Gabriel announcing that she would give birth to the Son of God, he greets her by calling her "favored one," "you who are highly favored," "you who have found favor with God." The root definition for the word "favor" is "approval." Why did God mark Mary with a stamp of approval and deem her highly favored? Scholars of the Ancient Near East are perplexed by this greeting and find it extremely odd. "The greeting is unusual, especially to a person of low status. Given the usual age for Galilean virgins, Mary was likely between 12-15 years old; her age, her gender and her being a Galilean villager would have given her little social standing" (Cultural Backgrounds Study Bible).
So why does this one of no "social standing" in the world receive the highest approval and immeasurable favor from the God of the universe? Maybe because her age, her gender, and her being from a remote village scorned by the entire region of Judah (see John 1:46!) had kept her from being corrupted by the world. There is something very pure and innocent about this young child Mary. In fact, she is a stark opposite to the people of power in the Christmas story. The news of Christ's birth was not received well in the palace. King Herod viewed it as a threat and tried to destroy it. Prior to visiting Mary, the angel Gabriel appeared to the holiest man in the land (the high priest) in the holiest place on the earth (the holy of holies in the Temple in Jerusalem) and the priest "did not believe the good news" (Luke 1:19-20). Mary is different. There are no layers of thick pride and prejudice for the angel to get through. She simply says, "I am the Lord's servant. May your word to me be fulfilled" (Luke 1:38).
I had a "Mary moment," if you will, yesterday during our 9:00 AM Heritage service at Pepper Pike. We live in uncertain times in our country right now. The word "divided" doesn't even seem to measure up anymore to the temperament we see these days. Hearing the words "civil war" coming even from well-known preachers of the gospel is both disheartening and irresponsible. I highly doubt an angel would appear and call these attitudes "highly favored." Yet, I did feel, sense and see the favor of God resting over a group of people on Sunday. Forty or so children from our Kidz Space joined the choir for a special musical offering. While they sang, other children about Mary's age served as ushers and passed plates as they collected money for their Christmas project of building another well through Charity Water for other children and families in the world to receive clean water for the first time in their lives. At that moment, it all made sense to me. This is why God chose Mary… this is why she was highly favored.
As I watched these children from "every tongue, tribe and nation"… from conservative parents and from progressive more liberal parents… from Heritage parents and from Mosaic parents… from public schools and private schools and home schooled… from long generations of American families and from newer immigrant families… one prevailing thought seared in my mind – these beautiful children don't even know how to be divided! It will be up to us their sinful parents and grandparents to teach them that. Which group do you think is highly favored of God? Politicians, high profile preachers and pundits spewing lies and lobbing verbal missiles like school yard bullies; or this group of children singing Silent Night in one unified voice? Who is telling the truth? The Christmas angel demands an answer. As Elijah said centuries ago on Mt. Carmel, "If the LORD is God, follow him; but if Baal (the god of the world), then follow him. How long will you go limping with two different opinions?" (1 Kings 18:21). Think long and hard and pray about where your loyalties lie this Christmas. I did this morning. I'm following our children. They were my Christmas angels this year and I heard from them echoes of that first "great company of the heavenly host praising God and saying, "Glory to God in the highest… and on earth peace to those on whom his favor rests" (Luke 2:13-24).
december 10, 2019
This Christmas season we have been listening to John's telling of the Christmas story. Absent are all of the best known Christmas figures… No Mary, Joseph and the babe… no shepherds or angels… no wise men. What there is in John's account, however, is a whole lot of light. Thus, our Christmas Teaching Series has been titled, "Where There's Night, There's Light." Pastor Steve shared in his message this past Sunday that John's predominant images for Jesus in his Gospel are light, truth and life. John writes, "The true light, which enlightens everyone, was coming into the world" (John 1:9). Notice, John says "coming." Not already here, not arising… coming from somewhere else!
Tim Keller writes, "The Christmas message is that 'on those living in the land of deep darkness a light has dawned' (Isaiah 9:2). Notice that it doesn't say from the world a light has sprung, but upon the world a light has dawned. It has come from outside. There is light ('true light') outside of this world, and Jesus has brought that to save us; he is the Light (John 8:12)" (Keller, "Hidden Christmas").
This Sunday at Pepper Pike at 9:00 AM, our chancel choir will hold their Christmas Concert of music. There will be pieces of Handel's Messiah. Handel wrote that verse in Isaiah 9:2 into his text heralding the Messiah's birth. If you read, Isaiah 8, however, you find out why God says through Isaiah that we need this God given light at the beginning of chapter 9. In chapter 8:19-20, it says that people are consulting mediums and magicians instead of God. Chapter 8 ends with the words, "Distressed and hungry, they will roam through the land… They will look toward the earth and see only distress and darkness and fearful gloom" (Isaiah 8:21-22).
What is the problem? They are looking "toward the earth" and human resources to fix the world. They are looking to their experts, their scientists, their politicians, their scholars, for solutions. They are saying, we are in darkness but we can overcome it ourselves. Sound familiar? As Keller writes, "People make the same claim today. Some look to the state, some look to the market, and everyone looks at technology. Yet they share the identical assumption. Things are dark but we believe we can end that darkness with intellect and innovation."
As TV psychoanalyst Dr. Phil is fond of saying, "How has that been working out for you?" Christmas is not a feel good story of the human race suddenly finding its better nature and pulling upon its collective goodness and resources to save itself. Christmas says to us humans, you are in perpetual darkness unable to find your way, but hear the good news, unto you is born this day – not a great political leader, not an incredible scientist or renowned teacher – but rather a Savior who is Christ the Lord.
I will let Keller have the last word, "When Jesus died on the cross, darkness fell over the whole land… The Light of the world descended into darkness in order to bring us into God's beautiful light (1 Peter 2:9). The promises of Christmas cannot be discerned unless you first admit you can't save yourself or even know yourself without the light of his unmerited grace in your life. This is the foundational truth from which we can proceed to learn the true meaning of Christmas."
I hope you will join us this Sunday and next as we continue to walk in this Light. This Sunday's theme, "The Light in the Flesh," next Sunday, "The Light that Brings New Life," and finally on Christmas Eve at 5:30, 7:00, 8:30 and 11:00 at Pepper Pike and 6:30 at South Euclid, "The Light in the Darkness." Come bask in the light, the one true light that has come and is coming into the world again this Christmas! (Go to ChristmasInCLE.com for details on Christmas Eve & Blanket the City)
november 18, 2019
On Sunday, I was in Cincinnati preaching at People's Church, a sister church in the Mosaix community. In 2002, Chris & Jan Beard, the lead pastors of People's (an Assembly of God congregation), felt a press on their hearts to see their church look more like heaven. At the time, they were an entirely Caucasian congregation. When they shared and pursued this vision, 60% of their folks walked out. Fast forward to today, and they are three times larger in size and representative of 22 nationalities! Terri and I were so blessed to fellowship with them.
At the same service, we also connected with our friends Oneya and Dele Okuwobi (Oneya is the co-author of Multiethnic Conversations and has preached here at GMUMC several times). They are launching a new church in Cincinnati focused on non-church people called 21st Century Church. People's Church, their original church, is sponsoring and helping to support this effort. Currently, they are building a launch team this year "at the table" as they share weekly meals and table fellowship.
People's Church has more of a Pentecostal vibe. During the 11:15 service, the Holy Spirit fell hard on us and people were speaking in tongues, led to move to the altar and I swear I met Bartimaeus (Mark 10:46-52) who came down front in a wheelchair and worshipped so intensely that his yells reverberated through my chest. It was glorious.
It reminded me that God has created each one of us so uniquely and our worship and praise back to God is equally unique. When we allow each other the space to worship together in spite of those differences and keep our eyes squarely on Jesus, it is magical.
As I preached last Sunday at GMUMC and yesterday at People's about "making space" at the table, I pray that each of us will continue to make space for "others"… other perspectives, other opinions, other cultures, other languages and experiences. When we do that, Paul writes that "the manifold wisdom of God is made known" (Ephesians 3:10). Thank you GMUMC for continuing to "make space" for me and for "others."
October 28, 2019
In the late 80's, the televangelist world was rocked by several high profile scandals on the part of two very prominent television preachers. One such scandal was focused around the PTL (short for Praise the Lord) Club Television Ministry and the Heritage USA Christian theme park. In 1989, Jim Bakker was indicted, convicted, and imprisoned on numerous counts of fraud and conspiracy, resulting in the dissolution of The PTL Club and the subsequent closure of Heritage USA. As land and assets were being sold off in an effort to pay restitution for embezzlement and satisfy creditors, various auctions took place. At one auction, office furniture was being sold off and a middle aged couple showed up determined to buy a specific table from one of the facilities former "counseling center."
The couple met privately with the auctioneer and offered to pay a substantial price for this particular table. The auctioneer cautioned them saying that was way more than the table would bring at auction and they could buy it much cheaper bidding on it there. No… they insisted that they didn't want to take the chance and wrote out a significant check for this seemingly small and plain conference table. The auctioneer was curious and asked why they treasured it so much. "You do know," he said, "that some pretty bad things happened with finances here?" "Yes, we know," they responded, "but we also know that our marriage was saved with the help of a licensed Christian counselor at that table."
Powerful things can happen at table together. Even when the world around us seems to be losing its collective mind, there is power at the table. This Sunday, we will begin a new teaching series for the month of November entitled From Tablet to Table. More and more we have become a people devoid of community and meaningful fellowship. Most of our time is being spent on devices, phones, and tablets living, connecting and communicating in cyberspace. Our most frequent form of conversation is being held on social media and is more like posting billboards than having any form of meaningful discussion. University researchers in Australia have even discovered that this is even having physiological consequences.
"New research in biomechanics suggests that young people are developing hornlike spikes at the back of their skulls — bone spurs caused by the forward tilt of the head, which shifts weight from the spine to the muscles at the back of the head, causing bone growth in the connecting tendons and ligaments. The weight transfer that causes the buildup can be compared to the way the skin thickens into a callus as a response to pressure or abrasion. The cause, they hypothesize, is prolonged use of smartphones and other handheld devices, which require users to bend their heads forward to make sense of what's happening on the miniature screens." (Washington Post, 6-25-2019).
If an iPhone or tablet has the ability to distort us out of our natural shape, the table can be the vessel to restore us. "Bring back the table!" shouts Christian theologian and teacher, Leonard Sweet, "If we were to make the table the most sacred object of furniture in every home, in every church, in every community, our faith would quickly regain its power, and our world would quickly become a better place."
This Sunday we will gather at the Lord's Table as we do the first Sunday of every month. This Sunday is also known as All Saints Day in the church calendar. We always light a candle and remember those from our congregation who are now seated at the Lord's heavenly banquet table. Come let us break bread together and share the cup… and bring back the table!
October 21, 2019
Years ago, Jerry Maguire, starring Tom Cruise, Renee Zellweger, Cuba Gooding, Jr. and Regina King became an iconic movie for my generation. The plot about a successful sports agent suddenly looking for the meaning of life, was really about a search for love. The characters played by Cuba Gooding, Jr. and Regina King had the perfect relationship full of love, fun, chaos and loyalty. Cruise's character had none of it and honestly had no idea what it would even look like. When he finally finds it in the most unlikely place of his employee played by Zellweger and her indelible son, he is clumsy with it and does everything he can to lose it. At the film's resolution when Cruise finally finds everything he has been looking for in his marriage to Zellweger he utters the unforgettable phrase, "You complete me."
That phrase was romanticized, used in cheesy fashion and mocked by late night comics for the next 10 years! My mom used to tell me that a cliché does not become a cliché unless there is some serious truth in it. Maybe we all teared up in the theaters when we heard that phrase and then taunted and dismissed it through satire afterward because it just hit too close to home. We all long for someone or something to complete us.
I have been extremely humbled by our teaching this fall, "I Said This, You Heard That." After intensively learning my "Strengths" through Ministry by Strengths these past nine years, and now growing to know my temperaments through this discipleship training, I am gaining more self-awareness than ever before. The past two weeks lessons have been the most difficult, "The Words Your Temperament Needs" and "When Your Needs Aren't Filled." I tend to get frustrated with overly "needy people" and I certainly never want to be counted in that number. These lessons screamed at me, "Liar, liar, pants on fire! "…we are all in that number somewhere along the line, as we all have temperament needs.
At first I tried to do with my "temperament needs" what we did with the line from the movie… make fun of them, taunt them and basically dismiss them. But I got alone with them last week and had a moment of confession and repentance with the Holy Spirit's help and admitted that they were true. I did some tough work of doing the exercises in the book of gauging when those needs were being filled and when I sensed they were not, and how I act out in response. It wasn't a whole lot of fun (and for YELLOW's everything has to be fun!), but it was deeply important.
Doing some work on this, I had two thoughts. My initial thought was, Wow did I ever marry the perfect person! She has such a powerful way of speaking to these deep needs I wasn't even consciously aware that I had. More so, I'm afraid then I have been aware and attentive to intentionally meeting hers, and I am going to work on that. Secondly, I became keenly aware to the point of tears of how clearly God in Jesus Christ has spoken to and addressed all of my deepest needs. On pages 70 & 71 of the workbook, there is a list of scriptures in response to every temperament need and as our Native American brothers and sisters would say, it is "big medicine." So with renewed faith, I was able to redeem that movie line from 1996 and say with full sincerity in that moment of devotion, "Jesus, you complete me."
When the world, your spouse, your family, your church, those closest to you fail to meet all of your inner needs (and trust me, we all will), lean up on the gospel, listen to and read God's words, and feel him meeting every one of them in the deepest of ways possible.
OK, end of heavy message, let's have some fun this coming Sunday (see note above on YELLOW's passion for fun). I will be closing out our teaching series "Jesus Said This, You Heard That: On Mountains & Mulberry Trees" and I want all of us to WEAR YOUR COLORS TO CHURCH! If you have not taken the assessment, click this link to a video in which I Said This, You Heard That author Kathleen Edelman talks about the 4 temperaments (she starts talking speciifcally at 7:58 minutes in) and take a guess at which one you are and jump in! Hey, people are dressing up this time of year for parties and trick or treat, let's have a little fun this Sunday in church!
September 30, 2019
I don't often do this, but I read an article this morning in the NY Times by a Christian scholar and writer whom I respect. Tim Keller is the founding pastor of Redeemer Church in New York City and author of various books on the Christian Faith (Prodigal God is my favorite). His piece this morning, "How Do Christians Fit Into the Two-Party System? They Don't" is so timely. I felt it was a great read and offer it to you as today's eNote.
https://www.nytimes.com/2018/09/29/opinion/sunday/christians-politics-belief.html?fbclid=IwAR1pIGV0RiuT8n3cXqlIX-RsbUg4BmpgnDHwWNs5Kn7PifGSEFYZIknLy1o
"What should the role of Christians in politics be? More people than ever are asking that question. Christians cannot pretend they can transcend politics and simply "preach the Gospel." Those who avoid all political discussions and engagement are essentially casting a vote for the social status quo. American churches in the early 19th century that did not speak out against slavery because that was what we would now call "getting political" were actually supporting slavery by doing so. To not be political is to be political.
The Bible shows believers as holding important posts in pagan governments — think of Joseph and Daniel in the Old Testament. Christians should be involved politically as a way of loving our neighbors, whether they believe as we do or not. To work for better public schools or for a justice system not weighted against the poor or to end racial segregation requires political engagement. Christians have done these things in the past and should continue to do so.
Nevertheless, while believers can register under a party affiliation and be active in politics, they should not identify the Christian church or faith with a political party as the only Christian one. There are a number of reasons to insist on this. One is that it gives those considering the Christian faith the strong impression that to be converted, they need not only to believe in Jesus but also to become members of the (fill in the blank) Party. It confirms what many skeptics want to believe about religion — that it is merely one more voting bloc aiming for power.
Another reason not to align the Christian faith with one party is that most political positions are not matters of biblical command but of practical wisdom. This does not mean that the church can never speak on social, economic and political realities, because the Bible often does. Racism is a sin, violating the second of the two great commandments of Jesus, to "love your neighbor." The biblical commands to lift up the poor and to defend the rights of the oppressed are moral imperatives for believers. For individual Christians to speak out against egregious violations of these moral requirements is not optional.
However, there are many possible ways to help the poor. Should we shrink government and let private capital markets allocate resources, or should we expand the government and give the state more of the power to redistribute wealth? Or is the right path one of the many possibilities in between? The Bible does not give exact answers to these questions for every time, place and culture. I know of a man from Mississippi who was a conservative Republican and a traditional Presbyterian. He visited the Scottish Highlands and found the churches there as strict and as orthodox as he had hoped. No one so much as turned on a television on a Sunday. Everyone memorized catechisms and Scripture. But one day he discovered that the Scottish Christian friends he admired were (in his view) socialists. Their understanding of government economic policy and the state's responsibilities was by his lights very left-wing, yet also grounded in their Christian convictions. He returned to the United States not more politically liberal but, in his words, "humbled and chastened." He realized that thoughtful Christians, all trying to obey God's call, could reasonably appear at different places on the political spectrum, with loyalties to different political strategies.
Another reason Christians these days cannot allow the church to be fully identified with any particular party is the problem of what the British ethicist James Mumford calls "package-deal ethics." Increasingly, political parties insist that you cannot work on one issue with them if you don't embrace all of their approved positions.
This emphasis on package deals puts pressure on Christians in politics. For example, following both the Bible and the early church, Christians should be committed to racial justice and the poor, but also to the understanding that sex is only for marriage and for nurturing family. One of those views seems liberal and the other looks oppressively conservative. The historical Christian positions on social issues do not fit into contemporary political alignments.
So Christians are pushed toward two main options. One is to withdraw and try to be apolitical. The second is to assimilate and fully adopt one party's whole package in order to have your place at the table. Neither of these options is valid. In the Good Samaritan parable told in the Gospel of Luke, Jesus points us to a man risking his life to give material help to someone of a different race and religion. Jesus forbids us to withhold help from our neighbors, and this will inevitably require that we participate in political processes. If we experience exclusion and even persecution for doing so, we are assured that God is with us (Matthew 5:10-11) and that some will still see our "good deeds and glorify God" (1 Peter 2:11-12). If we are only offensive or only attractive to the world and not both, we can be sure we are failing to live as we ought.
The Gospel gives us the resources to love people who reject both our beliefs and us personally. Christians should think of how God rescued them. He did it not by taking power but by coming to earth, losing glory and power, serving and dying on a cross. How did Jesus save? Not with a sword but with nails in his hands."
(Timothy Keller, founder of the Redeemer Presbyterian churches in New York City, is the author of "Prodigal Prophet: Jonah and the Mystery of God's Mercy," from which this essay is adapted).
September 23, 2019
Our fall is off and running at GMUMC. After our amazing teaching series kicked off by Kathleen Edelman and her book, "I Said This, You Heard That," sixteen new small groups have launched. Last night I received a text from our Sunday evening small group that had forty-two in attendance! I posted a picture of it on social media and I had a pastor comment that Barna would say that's about the average size of a church. God is moving.
As part of this fall launch we began a worship series entitled, "Jesus Said This, You Heard That." We are looking at some of the hard sayings of Christ during this series. Yesterday we looked at Luke 14:25-27 from the topic "How to Hate Your Parents" and this week we will be looking at Jesus' teaching from the Sermon on the Mount about adultery and exploring "Sex and Love and Lust." This is not a series for the faint of heart.
In seminary, I read a book by New Testament scholar F.F. Bruce titled "Hard Sayings of Jesus." It opened my eyes as to how many of Christ's sayings were difficult and rarely preached on. Here is an excerpt from his introduction to that book:
"One of the reasons for the complaint that Jesus' sayings were hard was that he made his hearers think. For some people thinking is a difficult and uncomfortable exercise, especially when it involves the critical reappraisal of firmly held prejudices and convictions, or the challenging of the current consensus of opinion… But in those who were not put off by him he created a passionate love and allegiance which death could not destroy. They knew that in him they had found the way of acceptance, peace of conscience, life that was life indeed" (F.F. Bruce, Hard Sayings of Jesus).
Join us in doing some real "thinking" during this series! There is still time to jump into a small group. These groups will meet for six weeks. Groups are every day of the week except Saturday. Check here right now to jump in https://garfieldchurch.org/i-said
We also have a group of young adults who have initiated a ministry at GMUMC called "Meet Up's." They shared in our Mosaic services at Pepper Pike yesterday that the goal is to provide a time of gathering for members and friends of GMUMC to simply gather and meet folks with no agenda except fellowship. In a large church, it's easy to get lost and think I really don't know anybody. Hopefully, these will provide a casual way to help with that. These will take place quarterly. The first Meet Up is on October 19th at 6:00 PM at the Cleveland Urban Winery 2180 Lee Rd. Cleveland Heights. Please register at https://garfieldchurch.org/meetups. There is a $5 charge and pizza is free! (Well, I guess that means pizza is $5 LOL). Meet Up's are for adults 21 and older.
If you have not met our new Worship & Youth Pastor Team, Dre and Leah Bracey, you are really missing out! They hit the ground running in July and are lifting us regularly in worship as well as leading our youth (grades 6-12) at Kidz Club in South Euclid on Wednesdays and Youth Group at Pepper Pike on Sundays. Our youth group kick off in August saw fifty five youth show up! If you know or have a youth in grades 6-12 tell them to jump on board because this train is rolling. Yesterday, I had a Heritage family tell me "we just spent an evening with Dre and Leah." That blessed my heart. Get to know this team.
If you are like me, sometimes you need a mid-week spiritual lift! Our House of Prayer meets Mondays at Pepper Pike at 7:00 PM and Thursdays at South Euclid at 6:30 PM. There are times when these are an oasis in the desert for me during the week. For several, this is their only and main worship service as well. This week, our Mosaic Worship Teams will be holding a night of worship on Wednesday, September 25th at Pepper Pike at 7:00 PM called Ascension. These are held quarterly primarily for those who serve on Sundays to enjoy a night of refreshment but also for the rest of us as well! No preaching, no agenda, just praise and worship. I hope you will join us on Wednesday!
Sounds like a lot going on at GMUMC? You bet! Jump in, the water's just fine.
September 17, 2019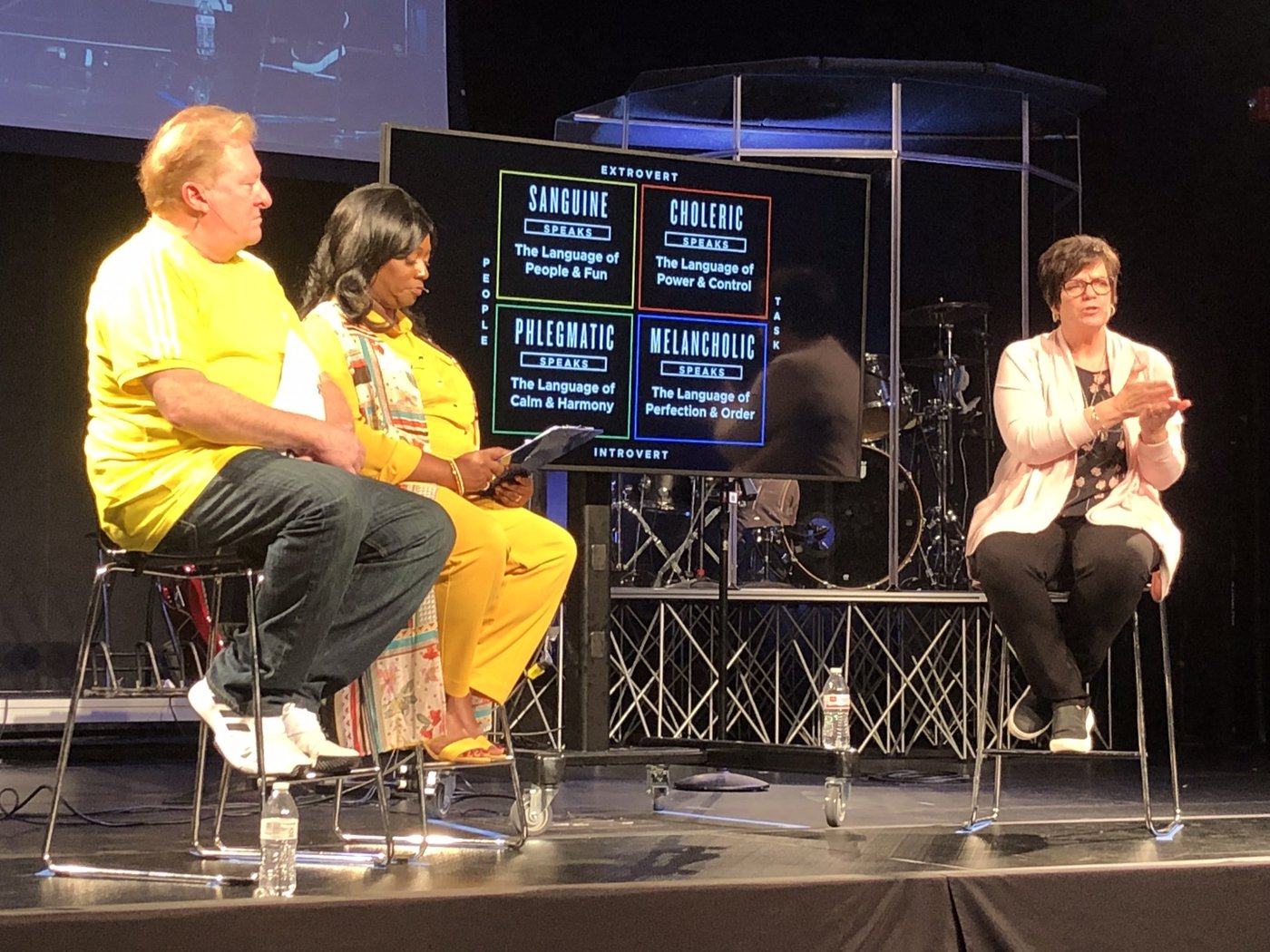 Yesterday we began a new journey at GMUMC. Kathleen Edelman - the author of "I Said This, You Heard That" - was our guest speaker / teacher all day. She led us through an introductory overview of the Temperaments. Her teaching is based out of Ephesians 4:29 – " Do not let any unwholesome talk come out of your mouths, but only what is helpful for building others up according to their needs, that it may benefit those who listen." Learning how to communicate in love is a requirement of followers of Jesus Christ. It is an urgent need in our world right now and we want to model it for the world.
We learned on Sunday that there are four temperaments – Sanguine, Choleric, Melancholic and Phlegmatic. Those are ancient Greek words, so to make it more helpful, Kathleen has identified them with colors – Sanguine's are YELLOW – Choleric's are RED – Melancholic's are BLUE and Phlegmatic's are GREEN. Everyone has a primary temperament, even though some are more balanced in temperaments than others. (I have no balance, I'm YELLOW through and through!).
YELLOWS speak the Language of "People and Fun."
REDS speak the Language of "Power and Control."
BLUES speak the Language of "Order & Perfection."
GREENS speak the language of "Calm and Harmony."
Knowing and understanding the way some persons speak and how others may hear, helps us live out the command of Ephesians 4:29. Starting September 22nd, we will be offering six week small group trainings in this material. Hundreds of us are getting ready to know and grow as we travel through this material. We had 200 books on hand and we sold out while the line was still 20 deep! Books are $15 and you can receive them on the first day of your small group. Groups will be taking the 15-20 minute assessment together on the first meeting.
It is SO easy to sign up for a small group on our new church website at www.garfieldchurch.org and click on "I Said This, You Heard That Small Groups" or just go directly there by clicking here at https://garfieldchurch.org/i-said There are 15 group meeting options at various times and locations Sundays-Thursdays. Terri and I just signed up for ours today, we hope ALL of you will too!
september 9, 2019
On Sunday, we had a wonderful fall kick-off as we began our new fall Teaching Series, "I Said This, You Heard That." We also celebrated another "kick-off" as many folks showed up in Browns gear (OK, a few showed up in Steelers gear) -- we threw footballs from the stage and had some fun. Hey, when we were celebrating, the Browns were still undefeated… by 4:00 PM, not so much.
This coming Sunday, September 15th you will NOT want to miss worship at either campus as Kathleen Edelman, the author of the book after which our series is titled, will be flying in from Atlanta to lead us in this important material (with the message being simulcast into our South Euclid Campus). Kathleen is a Christian Life Coach and expert in Communications and Temperaments. She will lead us on Sunday and then there will be opportunities to jump into six-week small groups using Kathleen's I Said This, You Heard That (small groups will meet on various days & times - in homes, at our campuses, and online). You can purchase books on Sunday ($15) and sign up for a group!
This will be a great Sunday to invite friends, families, co-workers, couples, etc., especially those who may not normally attend church. This will not be a typical church service; it will be more live interview with teaching than preaching. Kathleen says that the focus of learning about our God-given temperaments is that it helps us love one another better and communicate with one another better. Can there be anything more important in our world right now than training that helps us love and communicate with others better, even those we disagree with?! Ministry By Strengths has been and still is one of our main On Ramps at GMUMC. Can you believe that close to 900 people have gone through this training in nine years? Ministry By Strengths has helped us get to know ourselves and others better, the Temperaments will be a perfect complement helping us to fulfill Jesus' commands to Love God by Loving Others better!
If you cannot make it to worship in person this Sunday, be sure to join us online at 10:00 or 11:15 AM via our www.garfieldchurchonline.org or Facebook Live; or check out Kathleen's teaching later in the day on our website under "Messages." And do not miss this opportunity to invite, invite, invite. People who may not normally attend church will enjoy this teaching and may really want to jump into a small group!
Also, last week our Youth Group for students in grades 6-12 started back for their weekly gatherings on Sundays from 4:30-6:00 PM at our Pepper Pike campus. Their Kick-Off Pool Party and Cookout saw more than 50 youth show up. They were packed out last Sunday and have a new format of breaking out Junior and Senior High Youth. This ministry is being led by our new Worship and Youth Pastors Dre & Leah Bracey. Let your youth know to come dive in as this ministry is really taking off again this year!
I cannot wait to see you on Sunday and join you in this journey. I know I cannot be the only one who has said once twice or a thousand times, but, but, but "I Said This, You Heard That!" I'm excited to learn a lot through this teaching and in my small group… I hope you will too!