august 24, 2020
Dear friends, now we are children of God, and what we will be has not yet been made known. But we know that when Christ appears, we shall be like him, for we shall see him as he is. (I John 3:2)
Do not conform to the pattern of this world, but be transformed by the renewing of your mind. (Romans 12:2)
We knew it was getting bad, but we didn't realize how bad.
My husband Joe and I have lived in our home in Lakewood for more than 3 decades (yikes!). Like many homes in our area, our house was built nearly a century ago and still has the original plaster walls. Well, plaster tends to settle over the years and we noticed a few cracks in the ceiling and at least one wall in our bedroom, so we asked our friend Linda, who specializes in plaster restoration, to begin work on fixing the ceiling & the wall we thought was bad (she had done our living room ceiling a few years back).
It soon became clear that all 4 walls had significant cracks … so we moved across the hall into our spare bedroom and she began the weeks-long process of first removing the broken plaster and then slowly, painstakingly, restoring the walls. (Below are a few pictures showing the process.)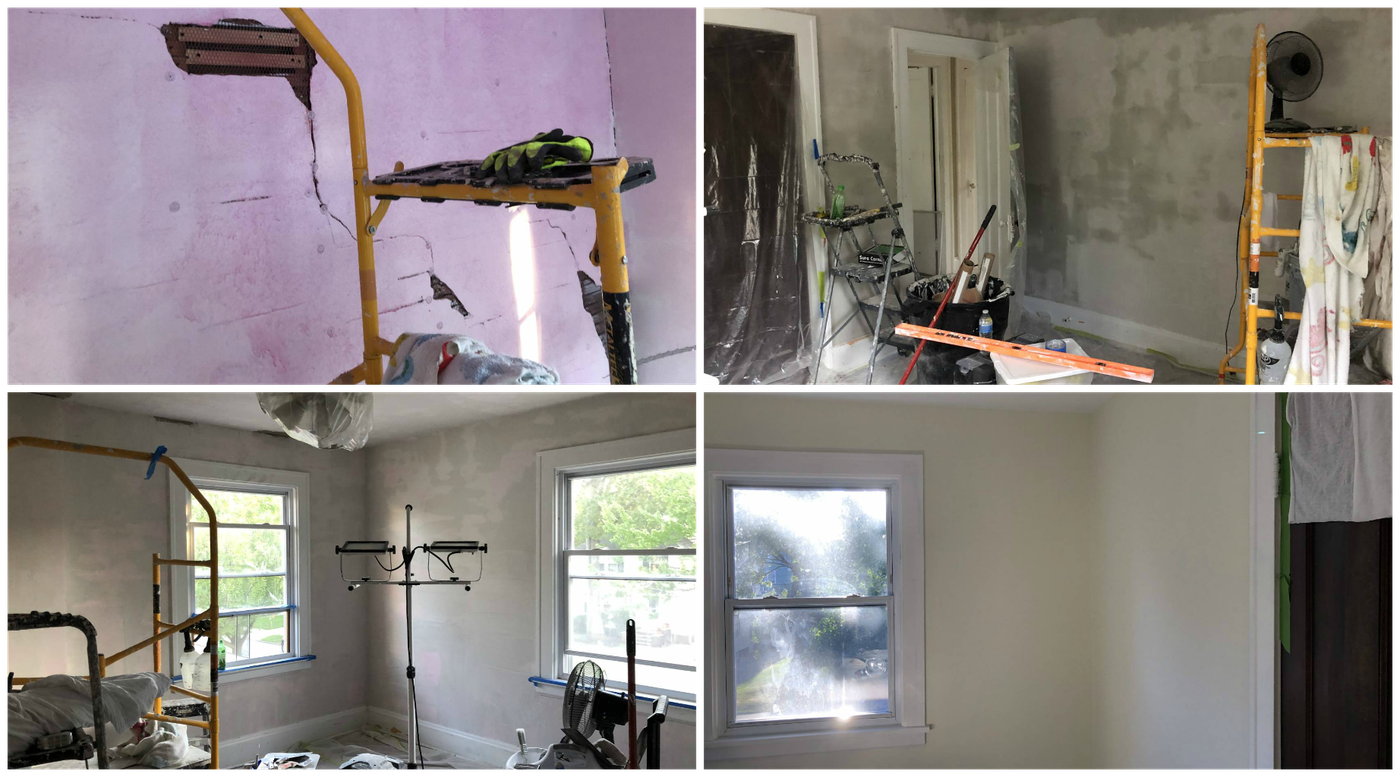 Seeing the process over these weeks has made me think about how the COVID-19 pandemic has revealed that there were more cracks in the Church and in our culture than we realized. We knew there were some cracks in the church in the United States, with declining numbers in worship attendance and overall engagement year over year in most churches…but the pandemic has revealed there are even more cracks and brokenness underneath the surface than many of us knew.
The whole world has been moving online but the church had lagged behind…and suddenly many churches were streaming worship services for the very first time. (Garfield has been blessed to have had our Online Campus Pastor, Curt Bissell, leading our online presence for the past few years so we didn't have to scramble in the same way as many churches though we continue to try to be Spirit-led and nimble in finding ways to engage with all of you online).
We knew there have long been cracks in our country because of the ongoing effects of the long history of racism in our country….but the pandemic has revealed that there are even more cracks and brokenness and sin underneath the surface than many of us knew.
And so continues the long but holy work of removing the broken pieces and the process of restoration. I think there is a gift in this, that God is giving us an opportunity as God's church and God's people to engage in the work of transformation, personally and corporately, and to live out Jesus prayer that we would "be one, Father, just as you are in me and I am in you. May they also be in us so that the world may believe that you have sent me." (John 17:21 )
Linda finished our bedroom…but there are a few more rooms that have some significant cracks that need repair. It's a slow process, and I suspect that as with our bedroom we'll see that the damage in the other rooms is worse than we thought, but I'm grateful that the work is started.
As challenging as it can be to face the cracks and brokenness that are being revealed, let's seize the opportunities that God is giving us to be agents of restoration and transformation, individually and together.
PS: We are two weeks into our "The Gospel in Film" Teaching Series. Eight people out of hundreds of you guessed Pastor Scott's favorite movie two weeks ago and 14 of you- Shasta Custard, Carolann Fisco, Wesley Gary, Tiffany Green, Evelyn Kaufmann, Gregory Jones, Audra Porter, Kristi Scott, Cheri Shumaker, Barbara K Smith, Larry Stahl, Linda Wheatt, Jordyn Wynne, and Malakai Wynne guessed Pastor Chip's. Keep voting as there are prizes at multiple levels! My top five movies of all time can be found here. I'm preaching on my overall number one this Sunday. Be sure to vote!
Because we are sharing movie clips, please use our online church platform or the Boxcast app to view services for the next two weeks. garfieldchurchonline.com
July 6, 2020
"Therefore I tell you, do not worry about your life, what you will eat or what you will drink, or about your body, what you will wear. Is not life more than food, and the body more than clothing? Look at the birds of the air; they neither sow nor reap nor gather into barns, and yet your heavenly Father feeds them. Are you not of more value than they? And can any of you by worrying add a single hour to your span of life? And why do you worry about clothing? Consider the lilies of the field, how they grow; they neither toil nor spin, yet I tell you, even Solomon in all his glory was not clothed like one of these. (Matthew 6:25-29)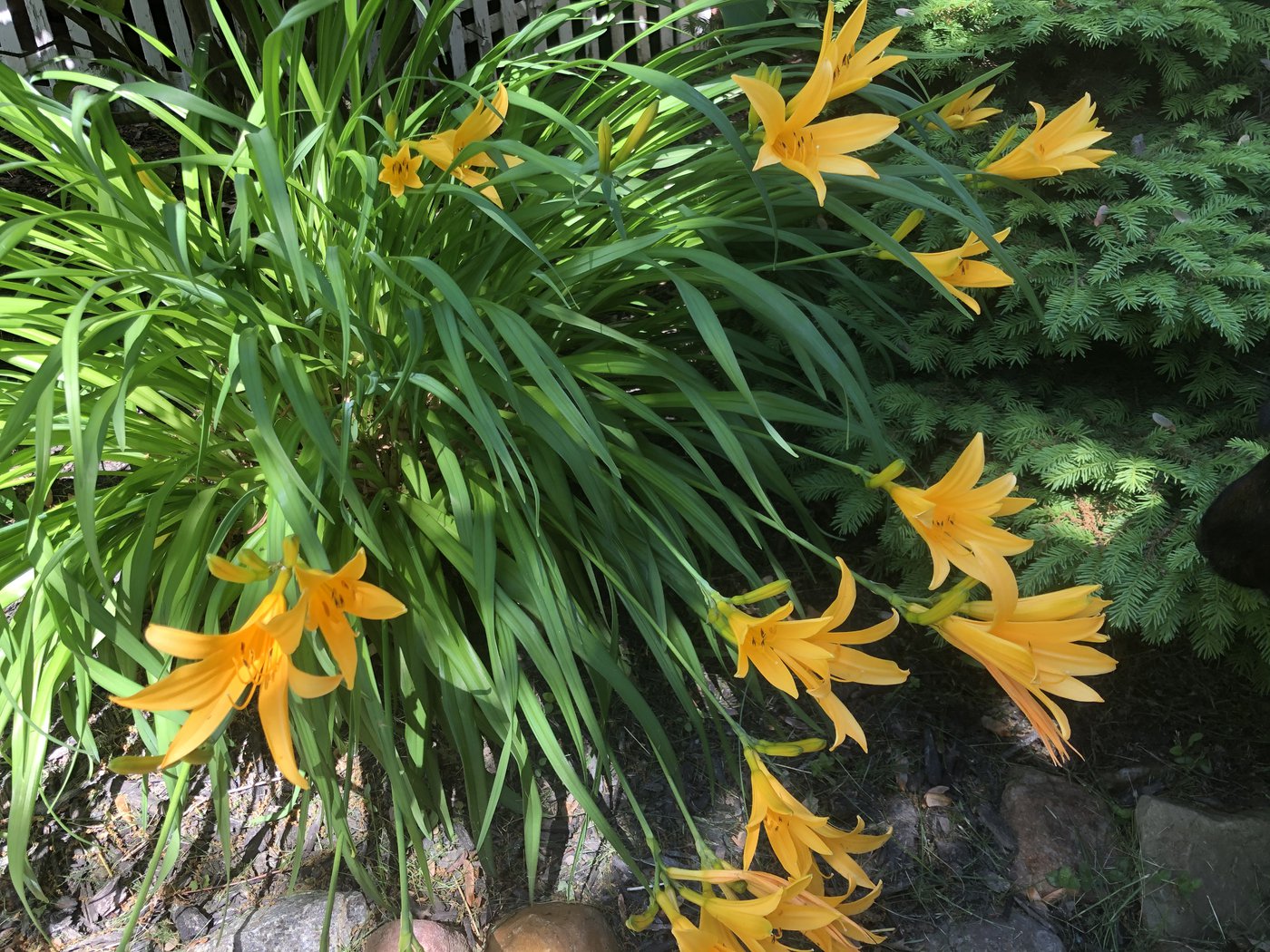 These words of Jesus in the Sermon on the Mount came to me when I was out walking Leah (our 2 year old GSD) the other day and saw these flowers. Yet, how can we not worry in these challenging, often painful times?
A recent survey by the Census Bureau revealed that a third of Americans reported experiencing depression and anxiety related to the COVID-19 pandemic. In some cases, the numbers were nearly double those uncovered in 2014. Younger adults reported even higher levels of pandemic-related depression & anxiety.
So if you are having trouble following Jesus' words about worry, you are not alone!
That is why on the July 17 5:00 PM edition of Faith on Fridays on Facebook Live, we'll be talking with two Licensed Clinical Psychologists, Dr. Kelly Bhatnagar and Dr. Rob Adams, who are part of Garfield Memorial Church, about mental health & the pandemic. We hope you'll join the live chat with your comments and questions. (You can also watch on demand afterwards on Facebook or on YouTube.com/garfieldmemorialchurch. (On the July 10 5:00 PM Edition Faith on Fridays we'll be talking with Bishop Tracy S. Malone about Leading the 21st Century Church in the midst of everything going on in our country & world. You won't want to miss it!)
PS: Here is a tool I've been using lately as a way to pause, refocus and "consider the lilies" and invite God into what I am experiencing. It's a slightly modified version of "SNAP" (explanation below) based on the work of Ian Cron, an Episcopal priest and a trained psychotherapist who writes and speaks about the Enneagram. SNAP is one strategy for responding to difficult emotions and to worry.
S - Stop and pause
N - Notice how you are feeling- what's going through your mind, how's your body feeling (you don't have to judge or evaluate it- just notice it)
A - Access the scriptures, access the presence of God. Bring those thoughts and feelings to Jesus
P - Pray and Praise. Worry and worship cannot coexist!
The great psychiatrist, Viktor Frankl, author of Man's Search for Meaning, says "Between the stimulus and the response, there is a space. In that space lies your freedom and your power."
Consider the lilies.
June 15, 2020
So let us not grow weary in doing what is right, for we will reap at harvest time, if we do not give up.
(Galatians 6:9)
Three months ago today, on March 15, we moved our church completely online, from worship to small groups to our online options like Monday Musings, Worship Wednesdays, and Faith on Fridays. I remain grateful that, because we had brought Pastor Curt Bissell on board as our online campus pastor and had been streaming our worship services even before that, we were able to pivot quickly. God continues to enable us to reach more people than ever with the great news of the gospel through our online platforms even as we are looking to expand our current offerings with some in-person gatherings at our facilities starting July 12th (see Pastor Chip's eNote from last week).
This week we are launching a new session of the 9 week group experience, Multiethnic Conversations; a book discussion group on White Fragility: Why It's So Hard for White People to Talk About Racism by Robin DiAngelo; and two different options for the small group temperament study, "I Said This, You Heard That."
Yet, it's undeniable that people are experiencing screen fatigue and a weariness of the pandemic-imposed restrictions on connecting with others in person as we show our love for others by using face coverings and maintaining a safe distance when in public. Parents have become weary of essentially homeschooling (though most school years have now ended.) On a very painful note, I know from so many of my brothers and sisters of color of their extreme weariness in the face of the ongoing, visible sin of racism that continues to be unveiled on a daily basis.
How then can we "not grow weary in doing right"? A few verses before, Paul says that we are to "bear one another's burdens." In Paul's time, carrying burdens we often involuntary, required by soldiers or demanded of slaves, but here it is freely offered. What is a burden you can carry for another, in love? Perhaps listen to the pain of a brother or sister, find a tangible way to work against injustice, help someone in financial need, or .... (you fill in the blank). As Christ's bride- his church- we must continue to seek to live out Revelation 7:9 where "a great multitude that no one could number, from every nation, from all tribes and peoples and languages" worships God together and be agents of love, grace, justice and reconciliation.
And, in those moments when we still grow unspeakably weary, we need to heed Jesus' invitation to "Come to me, all you that are weary and are carrying heavy burdens, and I will give you rest. Take my yoke upon you, and learn from me; for I am gentle and humble in heart, and you will find rest for your souls. For my yoke is easy, and my burden is light." (Matthew 11:28-30)
May 18, 2020
On one of my recent walks with our GSD, Leah, we saw this sign in front of a church building in my neighborhood.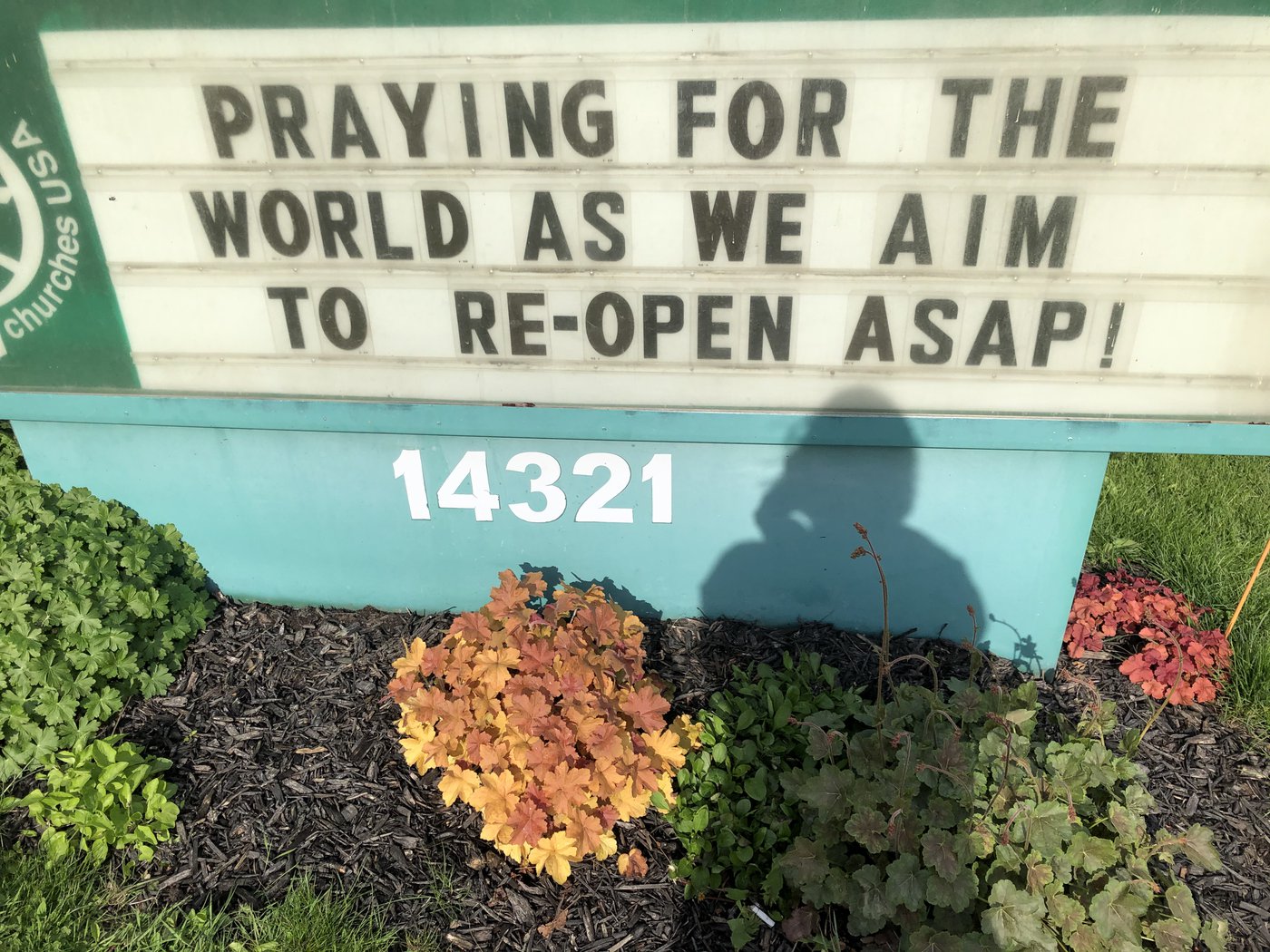 Once again, I was grateful to be part of a church that has never closed during this pandemic; in fact, in addition to offering online worship every Sunday, we have expanded our ministries to help get and stay connected all week long. House of Prayer continues to meet Mondays at 7:00 PM (via conference call- with a special speaker tonight), Monday Musings, Wednesday Worship, and Faith on Fridays. You can learn more at our Digital Faith page on our website https://garfieldchurch.org/digitalfaith , including a special format for the next two 5:00 PM Faith on Fridays with guests Daniel Im (May 22) and Ines Velasquez McBryde (May 29) talking about Growing Discipleship During a Pandemic.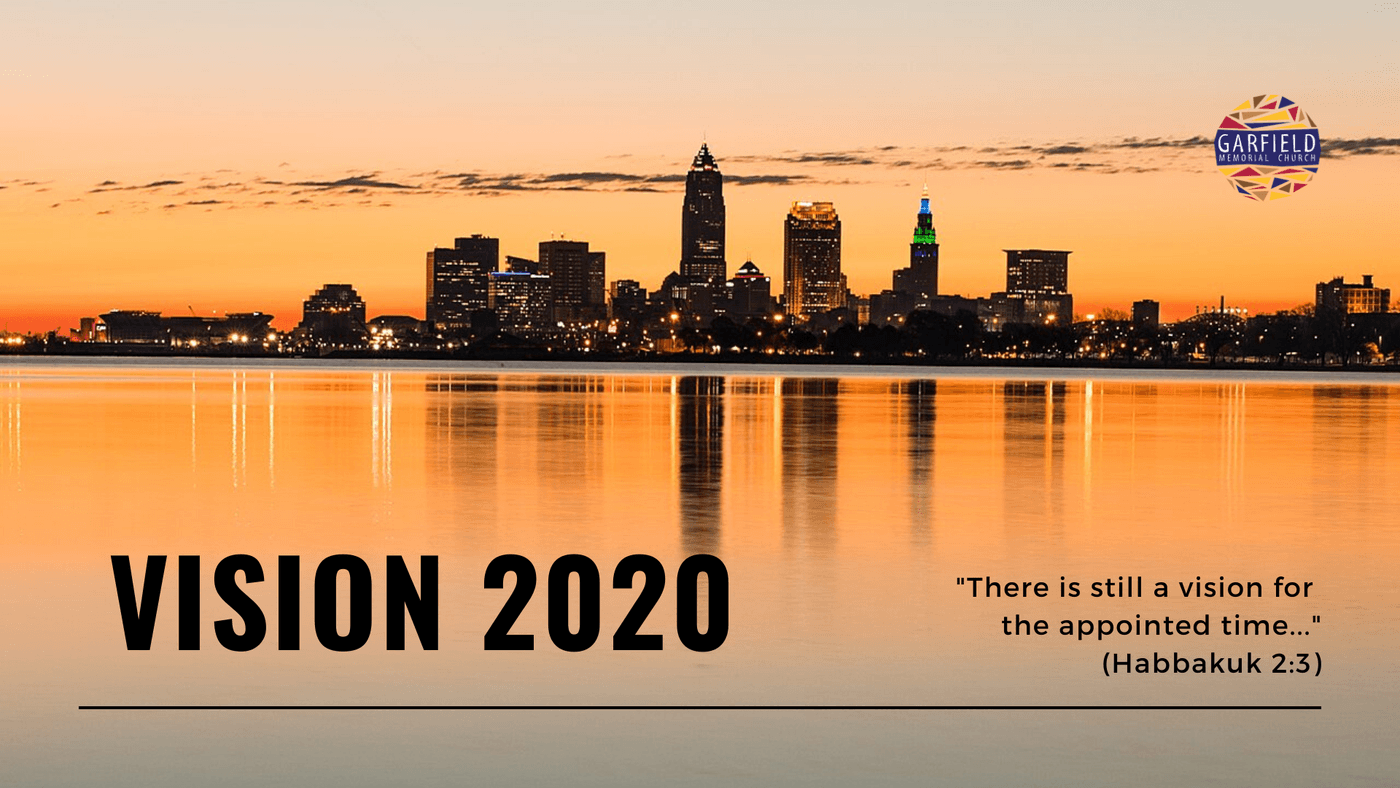 You may remember back in January (which seems like 30 years ago), we began the year saying this year would be a year of vision - Vision 2020. Pastor Chip has been sharing that before we ever knew about the coronavirus, we felt way back in the fall that God was calling us to take another moment to listen and dream about the next 3 / 5 / and 10 years for Garfield Memorial Church. We assembled a Vision 2020 team of 12 members and staff back in February, and while the virus may have delayed our start (we were to begin in April) it did not deny our start, as this past weekend the team gathered for over 6 hours to begin their work with our church consultant as we seek God's vision for God's church here at GMUMC. This is evidence that we are not currently sitting on the sidelines wondering how everything is going to work out. Instead, we are moving forward in faith! Please continue to pray that God's vision might be made more and more clear in 2020.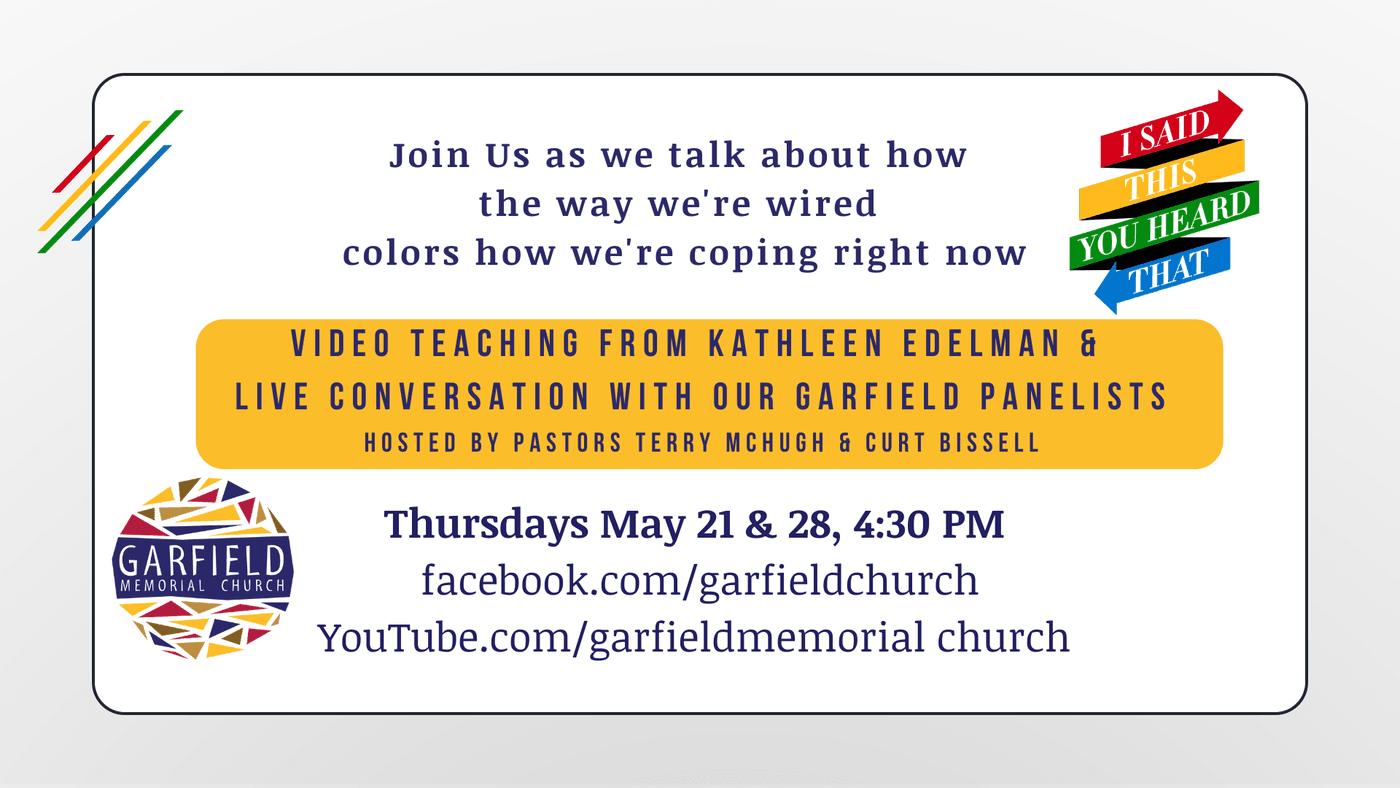 Do not let any unwholesome talk come out of your mouths, but only what is helpful for building others up according to their needs, that it may benefit those who listen. (Ephesians 4:29)
I love my husband Joe, and on May 24th we'll be celebrating 40 years of marriage. That said….being together a little more than we are used to during these weeks has led to a few interesting verbal exchanges. OK, a few quarrels.
If being with people in your household more than usual- or spending time in other ways with people in your family or network has led to some communication challenges, or if you wonder why some of us staying busy with tasks and projects while others are FaceTiming or Zooming with every friend they know, or why some of us feel safest hunkered at home while others are on their fourth neighborhood stroll of the day, or why you have to micromanage one kid's homeschooling while the other knocks out their work by 10:00 a.m.- then we hope you'll join us Thursday, May 21 and 28 at 4PM on Facebook Live for a two part special "I Said This, You Heard That" live event with prerecorded video teaching by communication coach and temperament expert Kathleen Edelman and our own panel from Garfield Memorial Church. Our panel will be talking with Pastor Curt Bissell and I live in a Zoom room and sharing how they see their temperaments affecting how they are coping right now.
Whether or not you were part of the hundreds who participated in "I Said This, You Heard That" small groups last fall or not we hope you'll tune in. As we share about the temperaments I bet you will be able to identify yours as well as the temperaments of those around you. You'll be able to comment on Facebook Live or YouTube live and we'll share more information soon about upcoming online versions of the six week "I Said This, You Heard That" study if you want to take a deeper dive.
"I Said This, Your Heard That" Special Live Event hosted by Pastors Terry McHugh & Curt Bissell
Thursday, May 21 & 28, 4:30-6:00 PM
may 4, 2020
You've probably seen the yard signs around thanking health care workers and caregivers; every time I pass one I lift up a prayer for all those in the front lines during this pandemic.
I am so grateful for the incredible sacrifices that our health care workers, caregivers, and others are making as we continue to live through this pandemic. We know that many of you are serving on the front lines on a daily basis. THANK YOU. Please know you and our families continue in our prayers.
This morning I saw one in one of my neighbor's yards that was a little more personal; the words "To My Mom" had been added to one of the signs that says "You Are Our HEROES!" I don't know the family personally but I doubled up on my prayers for them.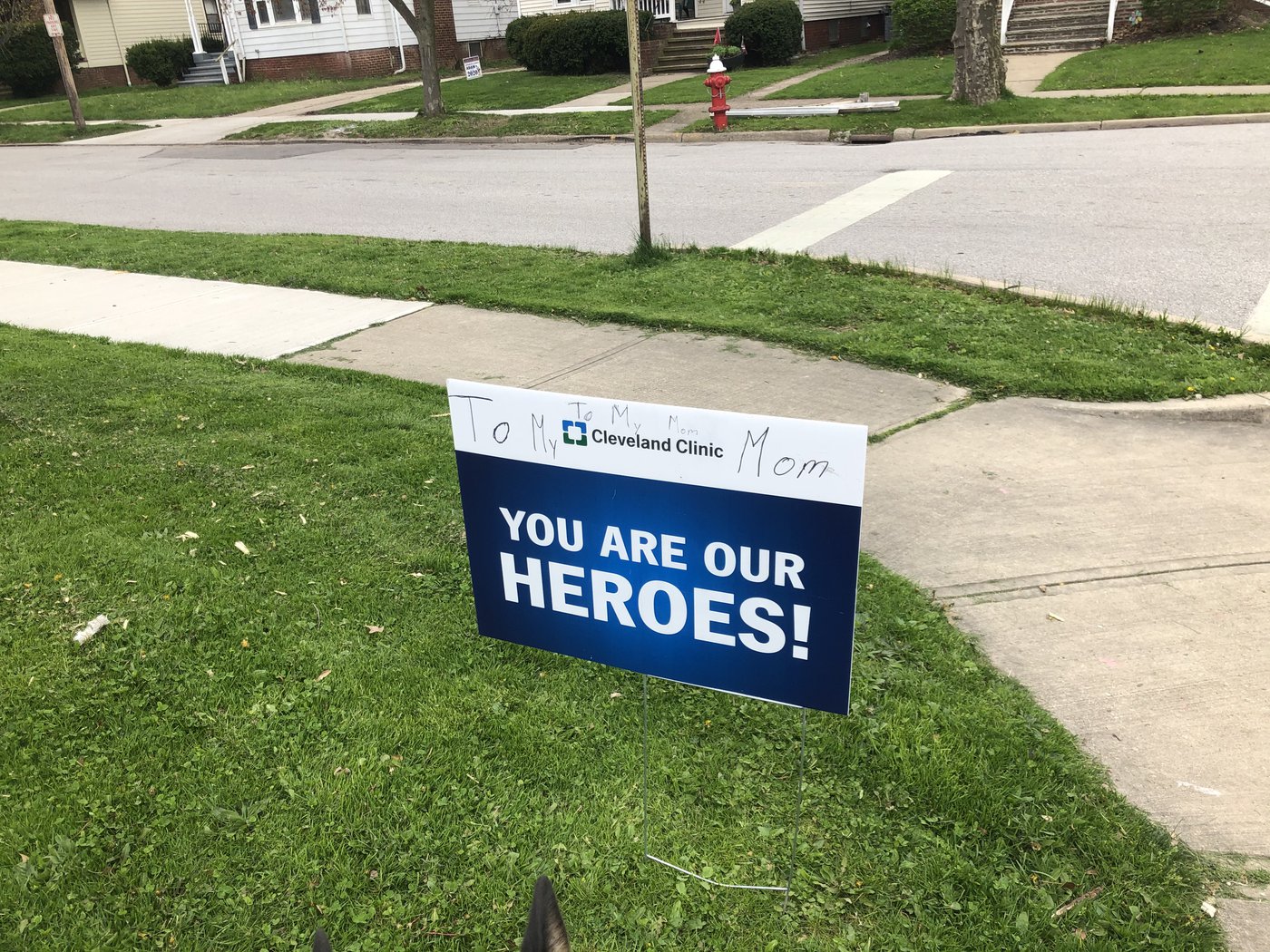 This coming Sunday is Mother's Day and, just as Easter was different this year, with extended families and friends connecting on Zoom and FaceTime instead of in living and dining rooms, the celebration will be a little bit different for many of us. And, the truth is, Mother's Day (and Father's Day) can bring up all kinds of feelings, depending on our past and present family situations. For some of you, it may be the first Mother's Day after your mom has passed on to the Church Triumphant…for others, you may be in the throes of first time motherhood, or expecting a child…for others, you may not have had children…or maybe you never knew your mom. But no matter what our situation Mother's Day is an opportunity to remember and celebrate the influence of the mothers and other women who have nurtured our faith- our spiritual "heroes"- from aunts or "Church mothers" or friends, or women in the Bible or perhaps even authors who have helped form us.
My mom (who died more than 50 years ago) used to read her Bible every day. She had made a black velvet cover for it and stitched the words "Holy Bible" on it. I rediscovered it in my attic some years back when I was making my way back to faith and just beginning the journey that would lead to full time pastoral ministry. It was a gift to be able to touch the pages she had touched, to read the words from the same Bible she had used.
In some ways we have been scattered, each into our own homes, by the pandemic, but at the same time we, as God's church and followers of Jesus, have also been gathered together in new and powerful ways as we worship together online, and connect during the week through House of Prayer conference calls, or Monday Musings, or Faith on Fridays. This week's online gatherings will help us think about and be thankful for the moms and others who helped form our faith. We hope you'll join us!
Jesus said "How often have I desired to gather your children together as a hen gathers her brood under her wings, and you were not willing!" (Luke 13:34)
The Psalmist said,
Lead me to the rock
that is higher than I;
3 for you are my refuge,
a strong tower against the enemy.
4 Let me abide in your tent forever,
find refuge under the shelter of your wings.
(Psalm 61:2-4)
Maybe one of the gifts in our current situation is that we may be more willing to be gathered into the very heart of God and to continue to shelter in God's presence.
Sheltering with you,
Terry
april 7, 2020
Leah (our almost-2 year old German Shepherd) and I take daily walks around our Lakewood neighborhood. Trees that were bare just a week or so ago are starting to show the beginnings of leaves. Purple and white violets are peeking through the grass in some yards, and crocuses and daffodils are in full bloom. I love the yellow bursts of forsythia bushes breaking out in full force.
As I was walking earlier I noticed a tree starting to show bright pink buds and suddenly a poem by Ezra Pound returned to me. (I was an English lit major in college and my memory of the poem goes all the way back to then). The poem is called "In a Station of the Metro" and it consists of only 14 words: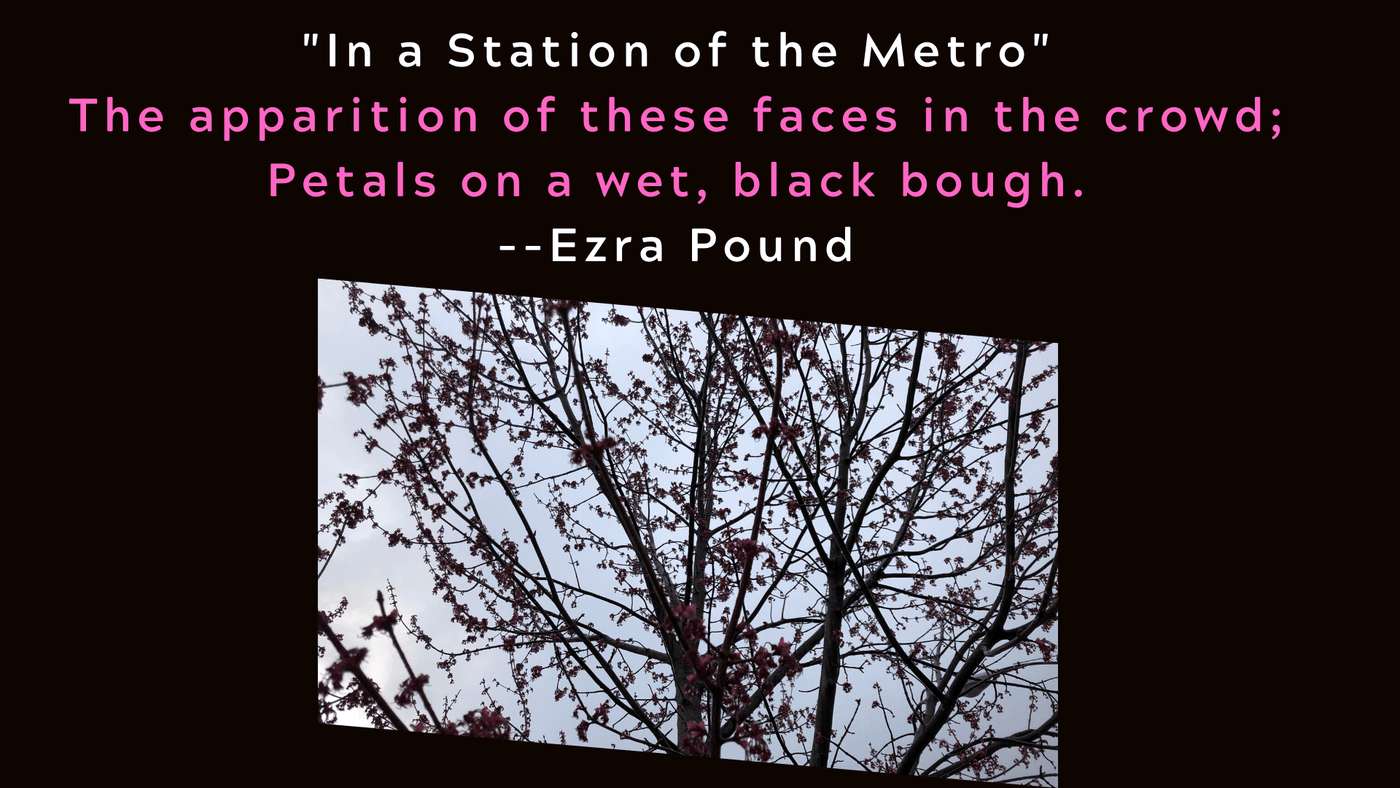 During these weeks of "Sheltering in Presence," as we have been saying, it's been life-giving to be able to connect with people virtually in multiple ways from social media, Facetime, our online worship, text and email, and gatherings via the video conferencing platform, Zoom, which we've used for some of during the week connecting points such as Faith on Fridays.* To hear the voices and see the faces of others as we navigate these fluid times is good medicine for the soul, and I see the beauty of your faces in a new way.
God has created us for connection! When God created humanity the only thing he said that was not good was for us to be alone (Genesis 2:18). We are designed, in God's image, to connect with God and with others.
As we experience Holy Week together, and prepare to celebrate Easter in all of our online worship experiences, let's stay connected as we "shelter in presence."
You can see the different options on our website and also by watching Pastor Chip's weekly update.
___
*Like many other churches, schools, and businesses, Garfield Memorial experienced Zoom "bombings" recently but we have updated our Zoom settings to help prevent this happening again.
march 10, 2020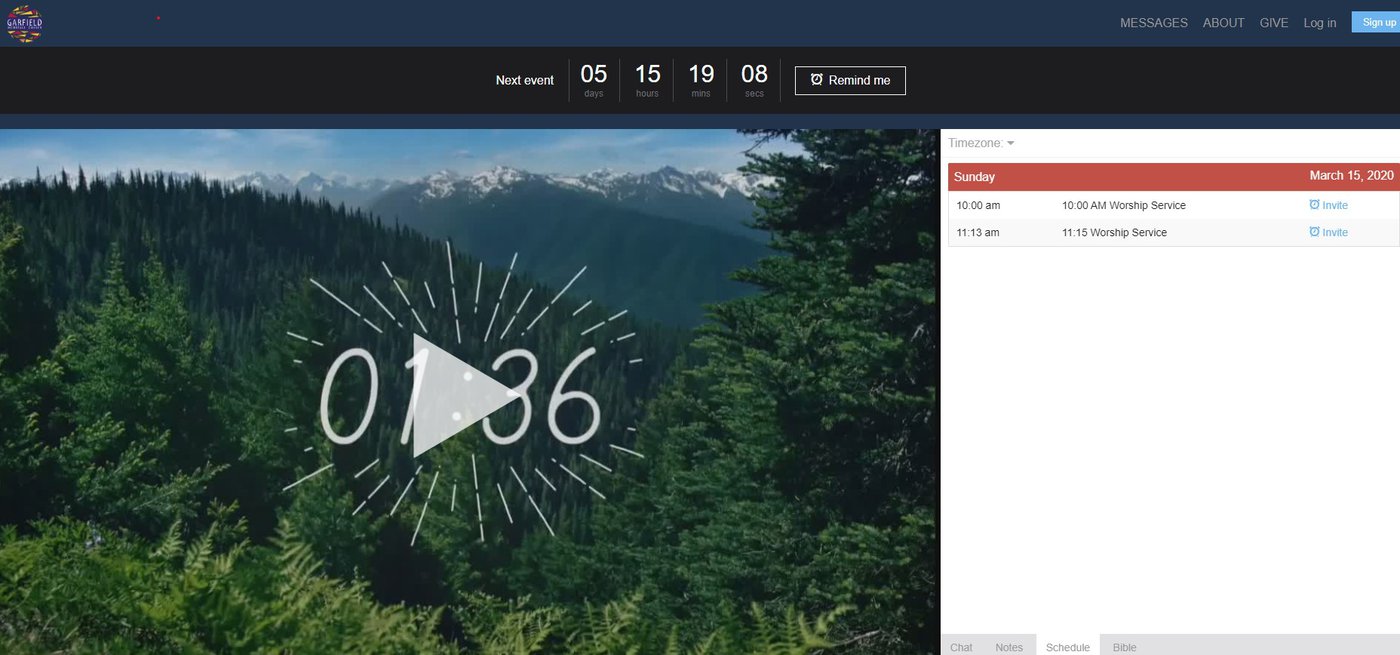 O Lord, our Sovereign,
how majestic is your name in all the earth!
You have set your glory above the heavens.
2 Out of the mouths of babes and infants
you have founded a bulwark because of your foes,
to silence the enemy and the avenger.
3 When I look at your heavens, the work of your fingers,
the moon and the stars that you have established;
4 what are human beings that you are mindful of them,
mortals that you care for them?
9 O Lord, our Sovereign,
how majestic is your name in all the earth!
(Psalm 8:1-4, 9)
On Sunday evening, right around sunset, my husband Joe and I (along with our German Shepherd, Leah) went for a walk down at Edgewater Park. It was good medicine for my soul to simply experience the beauty of God's creation. As I looked at the glorious sky and the expanse of water it illuminated, and the Cleveland skyline, Psalm 8 came to mind.
This Psalm was also one of the Bible passages for the week's readings on Worship for our Connect group. ("Connect" is the On Ramp that can lead to membership at Garfield Memorial Church, currently meeting on Mondays). The truth is, as worshipful as the moments at Edgewater were on Sunday evening, something different happens when I am in worship with others. The experience of praying together, praising God together, experiencing the word of God read and preached together, sharing the Lord's Supper together, helps me encounter God in ways that don't happen in other settings. I can't explain it apart from the presence of God and the power of the Holy Spirit.
This week, and for the rest of Lent, I invite you to grapple with 3 of the questions our Connect group is grappling with[1]:
What does the word "worship"-which comes from the Old English "worth-ship", which means to ascribe worth or value to something or someone- mean to you?
In which part of the worship service do you most connect with God? with others?
What keeps you from attending worship weekly? What do you need to do to adjust your schedule and priorities to make weekly worship a priority?
This Lent we have been talking about "Four Steps for Forty Days in Lent" which include online community Bible reading, being present in worship for every Sunday during Lent and on Easter, to consider being a host for one of our Maundy Thursday community gatherings, and praying for people we can invite to worship on Easter Sunday, April 12th. (More at https://garfieldchurch.org/lent ). Even if you are not able to be at one of our 4 Sunday morning services at our two campuses, you can still worship with others on our online Campus and interact with our online campus pastor, Curt Bissell, as well as others who are also worshiping online.
february 17, 2020
"Spiritual formation is the process by which the human spirit (will) is given a definite form, or character…It happens to everyone." (Dallas Willard)
"But you're gonna have to serve somebody, yes indeed
You're gonna have to serve somebody
Well, it may be the devil or it may be the Lord
But you're gonna have to serve somebody" (Bob Dylan, "Gotta Serve Somebody")
We as human beings are always being shaped and formed, consciously and unconsciously, whether we are aware of it or not, by the things we do . . . and the things we don't; by the people we spend time with. . . and those we don't; by the things we hear and read and say. . . and those we don't. (You get the idea.)
Volunteering- or, to use more Biblical language, "Serving" (Jesus said, "[I] did not come to be served, but to serve, and to give [my] life as a ransom for many." (Matthew 20:28)) – is one way we can be formed spiritually as we, like Jesus, put others before ourselves by serving them. (Click this link for more about the Volunteer Celebration Dinner on Feb. 29th for those currently taking a Volunteer "Test Drive" and those currently regularly volunteering at Garfield).
We are also formed as disciples of Jesus as we read, study and are transformed by the Bible, by prayer, by worship, by being in small group or "Table" community with others, and other ways as the Holy Spirit leads.
The upcoming Church "season" of Lent consists of the 40 days (not counting Sundays which are considered "Little Easters") leading up to the celebration of Christ's resurrection on Easter Sunday (April 12th this year). Lent has traditionally been a time for self-examination and repentance, sometimes including the practice of "giving something up"-or taking something on such as a new spiritual discipline or practice.
Lent begins on Ash Wednesday, and as early at the 600's, the church began the practice of marking worshipers' foreheads with ashes as a reminder of the Biblical symbol of repentance (sackcloth and ashes) and mortality: "You are dust, and to dust you will return" (Genesis 3:19). It has often been a time of preparation for Baptism (more on Baptism below).
In 2020, Ash Wednesday falls on February 26th, and our House of Prayer will offer "Drive Thru Ashes" (and anointing with oil) from 7:00-8:00 AM at our Pepper Pike Campus near the church driveway. Then, at 7:00 PM there will be an Ash Wednesday Service in the Pepper Pike Sanctuary (Childcare available through grade 5) with prayer stations by House of Prayer and an opportunity to receive – if desired- ashes and/or anointing with oil. The focus that night will be on Forgiveness- our 5th Core Value- and Pastor Lori Stubbs will conclude our "From Vision to Values" Teaching Series that night with a message on Forgiveness.
On April 19, the Sunday after Easter (in Pepper Pike, and the following Sunday in South Euclid) we will celebrate BAPTISM SUNDAY. It is not too early to be praying about whether God is calling you into the new life of the waters of baptism / reaffirmation of baptism. You can experience baptism/reaffirmation by immersion (going underwater in our baptism pool) or sprinkling. To get a feel for what Baptism Sunday is all about, you can watch a short video, "Why Baptism?" here. (The weekend after Easter we will also again be hosting the Mosaix Regional Learning Lab!)
And we all, who with unveiled faces contemplate the Lord's glory, are being transformed into his image with ever-increasing glory, which comes from the Lord, who is the Spirit.
(2 Corinthians 3:18)
How will you be formed – and even transformed- in these weeks leading up to Easter, and beyond?
february 3, 2020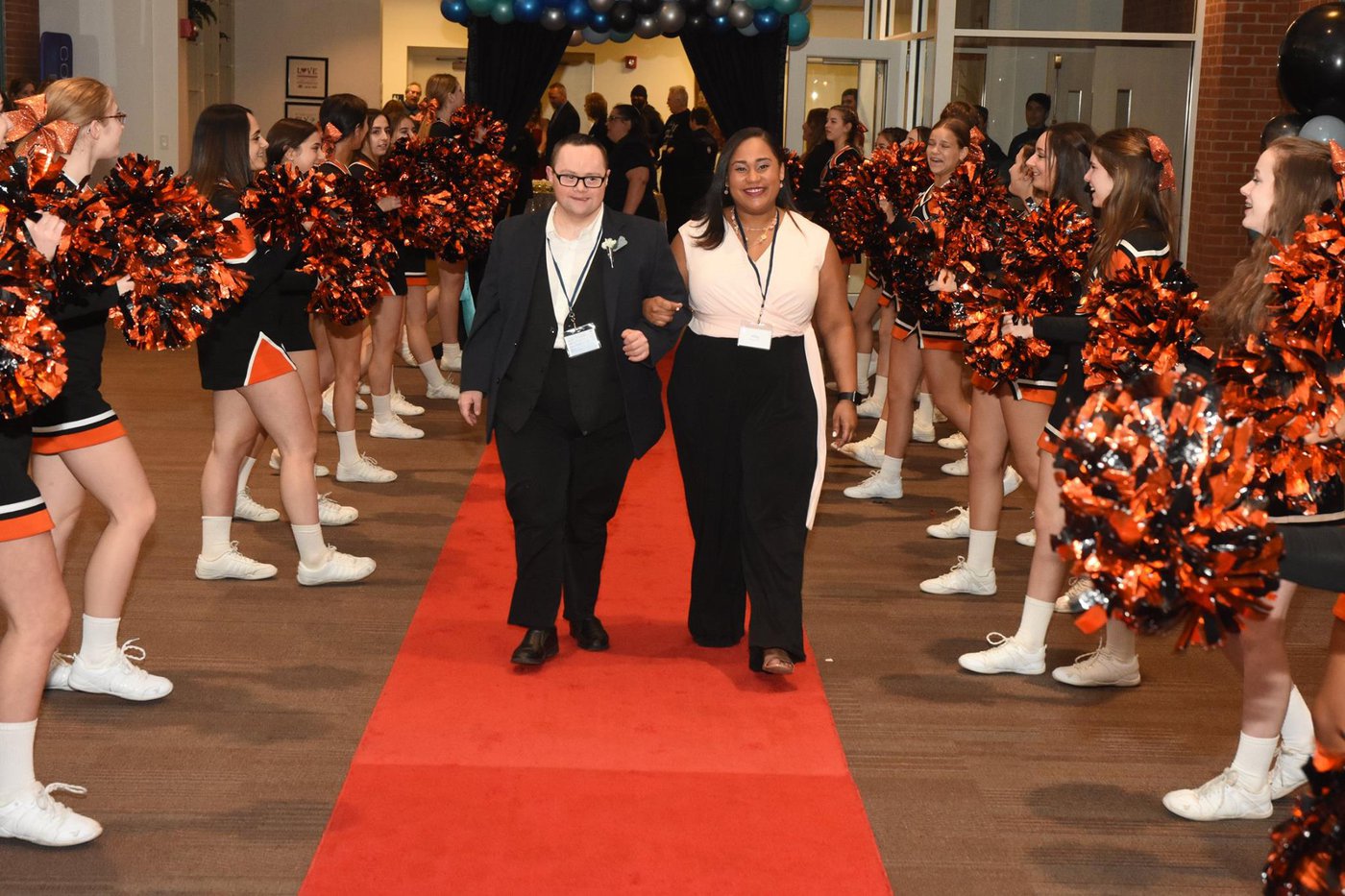 People will come from east and west and north and south, and will take their places at the feast in the kingdom of God. (Luke 13:29)
"We love Scott! We love Scott!"
That was the unexpected greeting Scott Norwood received when he and the rest of the team landed at the Buffalo airport after the 1990 Super Bowl (XXV) between The New York Giants and the Buffalo Bills. As Pastor Chip recounted yesterday in his message ("From Vision to Values: Safety"), with just 8 seconds left in the game, Norwood missed a 47-yard field goal . . . and the Bills lost the game. (For a link to the part of the message where Pastor Chip talked about Norwood, click here). Scott later said he didn't know what to expect from the crowd of 30,000 fans and that he really just wanted to stay behind the scenes, but the fans wouldn't let him. He said that after hearing the fans chant "We love Scott!" he "had never felt more loved than in that moment."
This coming Friday, Feb. 7th, Garfield Memorial Church will again host Night to Shine, a prom experience for adults and older youth who learn in special ways. Hundreds of volunteers help make this a night to remember as each of our guests is crowned "Prom King" or "Prom Queen." There will be dancing, karaoke, food, limo rides, paparazzi, and more. (If you would consider being a companion ("prom date") for one of our honored guests that night click here.)
It's an amazing evening from start to finish, but I am always moved by the incredible red-carpet welcome, led by a cheerleading squad, that each guest receives as he or she is escorted down the carpet by their buddy for the evening. The cheers and shouts of welcome have a visible impact on our guests as they experience the love and warmth of the crowd.
What if every guest at Garfield, every day of the year, received a welcome like Scott Norwood, or our honored Night to Shine guests did? If we proclaimed, "We love …." to everyone we encounter- by not only our words, but our actions, our demeanor, our love for all of God's beloved children?
We just might find that the world becomes a little brighter, and that every night (and day!) is a "Night to Shine."
december 23, 2019
How do you respond when someone asks you, "Are you ready for Christmas?"
At this point in the season- the day before Christmas Eve- many are scrambling to finish shopping, preparing for guests (or traveling to BE a guest), baking, cooking, doing laundry, or whatever last minute tasks remain to be done.
The New York Post carried a story last December reporting that, according to recent research, one in three Americans is experiencing- or will experience - "Festive Burnout" before December 25th, and that 68% of Americans consider the "holiday season" (Thanksgiving/Hannukah/Christmas) to be a "stressful" time. The researchers call it "festive stress."
I saw a graphic illustration of "festive burnout" this morning when I was walking our dog, Leah, and I couldn't help taking a picture & posting it on Facebook.
So, if you are identifying with Santa and Frosty the Snowman collapsed on the front lawn we passed, you're not alone!
But no matter where you are on the Festive Stress scale, we hope to see you tomorrow at one of our 5 Christmas Candlelight Celebrations (click here for details) and, we hope you will invite others to join you. (As we've said many times, the majority of people who don't currently attend church say they are likely to accept a personal invitation from a family member, friend, or neighbor to come to a worship service. People are especially receptive at Christmas.)
As the angel said to the shepherds on that first Christmas,
"Do not be afraid; for see—I am bringing you good news of great joy for all the people: 11 to you is born this day in the city of David a Savior, who is the Messiah, the Lord. 12 This will be a sign for you: you will find a child wrapped in bands of cloth and lying in a manger." 13 And suddenly there was with the angel a multitude of the heavenly host, praising God and saying,
14 "Glory to God in the highest heaven, and on earth peace among those whom he favors!" (Luke 2:10-14)
See you tomorrow when we will experience the joy and peace of Christmas together!
december 2, 2019
Matthew's gospel tells us that the baby that will be born to Mary & Joseph will be called "Immanuel" (which means "God with us.")" (Matthew 1:23) John's gospel says that the Word that was with God from the beginning became flesh and lived among us. (John 1:14)
Christmas reminds us that God doesn't stay far off in the distance, but he comes to be with us. Jesus enters our world of pain, brokenness, sinfulness and death, walking alongside us.
But as Pastor Chip shared yesterday, as we launched our December teaching series, "Where There's Night, There's Light (Christmas According to John)"(with Pastor Scott preaching in South Euclid),
God is not only with us; God is for us.
In his message, Pastor Chip shared a story he came across about an unusual password. Two friends were driving around, trying to navigate the busy streets of LA recently. The author of the piece said he asked his friend (who was driving) what his password was so he could access the GPS on his phone. The password? pro nobis. The writer goes on to say,
"I asked him what pro nobis meant and why he chose that for a password. He told me it was Latin and it meant "For Us" and then he suddenly started choking up. I thought, Why would those two Latin words cause so much emotion?
He composed himself and then explained that after walking through deep personal pain, true healing came when he learned that God is "for us"—or the Latin phrase pro nobis. My friend said that after his parents' divorce, a season when he assumed that God didn't care or that God had given up on him, he finally found hope through those two simple words. When he decided to believe that God was pro nobis, that God had even sent Christ to die for him, he could then decide to lay down his life for others."
The New Testament book of Romans says, "If God is for us, who can be against us? He who did not spare his own Son, but gave him up for us all—how will he not also, along with him, graciously give us all things?" (Romans 8:31-32)
Starting in November we have been talking a lot about giving; as we have shared, 30-40% of the funding for the ministry we share at Garfield Memorial in Pepper Pike, South Euclid & Liberia is received during the month of December. Every gift of any size is needed and helps to move the mission. Our "Did You Know?" videos have helped to tell the stories of how your generosity supports ministry at both our locations to children, youth, our online presence, outreach, evangelism, serving those less fortunate, and more. (Go to www.garfieldchurch.org/did-you-know to see the videos we've shown so far, with more to come this month.)
We hope these stories of how God is "widening the circle" through your giving (and, if you're new here, we really do mean it when we say we don't expect you to give!) inspire you.
But there's really only one reason we give: it's in response to what God has done for us: "God so loved the world that he gave …" (John 3:16) In doing that he proved he is truly for us…which makes me wonder, how am I, how are we, demonstrating that we are for him? For Christ's church?
We use passwords to unlock our phones, our apps, our online accounts….but only God can unlock our hearts and unleash our generosity.
Pro nobis. Thanks be to God!
October 14, 2019
Do not let any unwholesome talk come out of your mouths, but only what is helpful for building others up according to their needs, that it may benefit those who listen. (Ephesians 4:29)
"I'm red (choleric), my wife is green (phlegmatic), and we have a son (7) who is blue (melancholic), and a daughter (4) who is (very) yellow (sanguine). Learning about the temperaments has helped me be more patient with my son's need for safety and his cautiousness…and more understanding of why my daughter seems to never stop talking."
"After taking the temperaments assessment for my small group, I had my whole work team take the assessment and already I'm seeing a difference in their interactions and they seem to understand-and appreciate- one another better."
"I had felt like I never quite fit in but understanding my temperament - and talking with others who share my temperament- helps me realize that I do fit in and that I am not the only one who is like this [my temperament]"
"As a blue, I am grateful for the yellows in my life…or I might never get out of the house!"
"I have always felt very guilty about my needs as a yellow for acceptance, approval, attention & affection and while I still struggle some, I realize this is how God created me- and it's OK"
These are just a few of the comments we've heard these past few weeks from some of the hundreds of people at Garfield who are participating in one of the 6 week small groups based on Kathleen Edelman's I Said This, You Heard That that started a few weeks ago after Kathleen was with us as our guest speaker on September 15th. Edelman says there are 4 main temperaments for communication, which predispose each of us to speak and hear words in a certain way. Basically, everyone defaults to one of the below communication languages:
YELLOW: Speaks the language of people and fun!
RED: Speaks the language of power and control.
BLUE: Speaks the language of perfection and order.
GREEN: Speaks the language of calm and harmony.
When we understand the temperaments and learn to apply what we've learned, we can use our words to love others better and to live out the words of Ephesians 4:29.
On October 27th we are asking EVERYONE who has taken the assessment (whether as part of an "I Said This, You Heard That" small group, a volunteer team or maybe even at work) to wear something in the color of their dominant temperament to worship that day. There are going to be some fun surprises (Dreamed up by a certain very sanguine lead teaching pastor with the initials C. F.) that day too so you definitely won't want to miss worship!
August 28, 2019
Safi Bahcall (author of the Wall Street Journal bestseller, Loonshots: How to Nurture the Crazy Ideas That Win Wars, Cure Diseases, and Transform Industries and a recent guest on the Tim Ferriss Show podcast) says he took a class in hypnosis in grad school at Stanford (where he was studying physics) after he noticed half the Stanford football team was in the class. The class was taught by a physician from the Stanford Medical School who had written one of the classic books on hypnosis.
Bahcall says that the professor began by debunking some of the myths around hypnosis and argued that it's actually a natural state. The professor explained that, "in ordinary life there's something called the magic number seven. As you sit there, as I sit here, or as anybody sits down in your audience and imagines the world around them, they can be aware of roughly seven different things around them plus or minus two.[i] . . . Hypnosis is really the state of bringing that down to one. You're just focused on one thing. It turns out everybody, practically everybody, has the ability to go into a hypnotic trance…. we all go into this state of very heightened focus. If you're listening to music or you're deep in a book and when someone has to call your name a couple times and then you shake your head and snap out of it, you were in a trance, you were completely focused on just that one thing and that magic number seven plus or minus two in the world around you had just narrowed down to one."
Focus seems hard to come by when distractions are as close as the phones we hold in our hands, but we don't need technology to pull us away from what's really important. Luke's gospel tells us that when Jesus was at Mary & Martha's home to share a meal,
40 …. Martha was distracted by her many tasks; so she came to Jesus and asked, "Lord, do you not care that my sister has left me to do all the work by myself? Tell her then to help me." 41 But the Lord answered her, "Martha, Martha, you are worried and distracted by many things; 42 there is need of only one thing." (Luke 10:40-42)- drawing near to Jesus, sitting at his feet, and listening to what he says.
The apostle Paul knew something about staying centered:
12 Not that I have already . . . arrived at my goal, but I press on to take hold of that for which Christ Jesus took hold of me. 13 Brothers and sisters, I do not consider myself yet to have taken hold of it. But one thing I do: Forgetting what is behind and straining toward what is ahead, 14 I press on toward the goal to win the prize for which God has called me heavenward in Christ Jesus. (Ephesians 3:12-14)
John's gospel tells us that on the last night of Jesus' earthly life he was with his disciples, and after he washed their feet, he continued to teach them, saying, "A new command I give you: Love one another. As I have loved you, so you must love one another. By this everyone will know that you are my disciples, if you love one another." (John 13:34-35)
On Sunday we announced that Kathleen Edelman, author of I Said This, You Heard That, will be our guest speaker on September 15th at all worship services. Kathleen will be sharing how understanding our own, and other's, temperaments, can help us to live out Jesus' commandment to love one another better by communicating in ways that build up rather than tear down (Ephesians 4:29). You will not want to miss Kathleen on September 15th- and please invite anyone you can think of who wants to learn to communicate more effectively.
In the weeks following Kathleen's visit with us, we'll be launching new 6 week video-based I Said This, You Heard That small groups meeting at various days/times. You can sign up for the groups on Sept. 15th – if you want to learn how you can facilitate a group at a home or one of our church campuses, reply to this eNote & we'll be in touch.
Don't be distracted by the "many things" that try to command our attention, but come to worship on September 15th to hear more about I Said This, You Heard That, and how our wiring "colors" (affects) our communication and to begin to imagine the impact we could have if we all focused on the "one thing" of loving one another.
[i] From an article by Harvard profession George A. Miller, The Magical Number Seven, Plus or Minus Two Some Limits on Our Capacity for Processing Information