february 17, 2020
"Spiritual formation is the process by which the human spirit (will) is given a definite form, or character…It happens to everyone." (Dallas Willard)
"But you're gonna have to serve somebody, yes indeed
You're gonna have to serve somebody
Well, it may be the devil or it may be the Lord
But you're gonna have to serve somebody" (Bob Dylan, "Gotta Serve Somebody")
We as human beings are always being shaped and formed, consciously and unconsciously, whether we are aware of it or not, by the things we do . . . and the things we don't; by the people we spend time with. . . and those we don't; by the things we hear and read and say. . . and those we don't. (You get the idea.)
Volunteering- or, to use more Biblical language, "Serving" (Jesus said, "[I] did not come to be served, but to serve, and to give [my] life as a ransom for many." (Matthew 20:28)) – is one way we can be formed spiritually as we, like Jesus, put others before ourselves by serving them. (Click this link for more about the Volunteer Celebration Dinner on Feb. 29th for those currently taking a Volunteer "Test Drive" and those currently regularly volunteering at Garfield).
We are also formed as disciples of Jesus as we read, study and are transformed by the Bible, by prayer, by worship, by being in small group or "Table" community with others, and other ways as the Holy Spirit leads.
The upcoming Church "season" of Lent consists of the 40 days (not counting Sundays which are considered "Little Easters") leading up to the celebration of Christ's resurrection on Easter Sunday (April 12th this year). Lent has traditionally been a time for self-examination and repentance, sometimes including the practice of "giving something up"-or taking something on such as a new spiritual discipline or practice.
Lent begins on Ash Wednesday, and as early at the 600's, the church began the practice of marking worshipers' foreheads with ashes as a reminder of the Biblical symbol of repentance (sackcloth and ashes) and mortality: "You are dust, and to dust you will return" (Genesis 3:19). It has often been a time of preparation for Baptism (more on Baptism below).
In 2020, Ash Wednesday falls on February 26th, and our House of Prayer will offer "Drive Thru Ashes" (and anointing with oil) from 7:00-8:00 AM at our Pepper Pike Campus near the church driveway. Then, at 7:00 PM there will be an Ash Wednesday Service in the Pepper Pike Sanctuary (Childcare available through grade 5) with prayer stations by House of Prayer and an opportunity to receive – if desired- ashes and/or anointing with oil. The focus that night will be on Forgiveness- our 5th Core Value- and Pastor Lori Stubbs will conclude our "From Vision to Values" Teaching Series that night with a message on Forgiveness.
On April 19, the Sunday after Easter (in Pepper Pike, and the following Sunday in South Euclid) we will celebrate BAPTISM SUNDAY. It is not too early to be praying about whether God is calling you into the new life of the waters of baptism / reaffirmation of baptism. You can experience baptism/reaffirmation by immersion (going underwater in our baptism pool) or sprinkling. To get a feel for what Baptism Sunday is all about, you can watch a short video, "Why Baptism?" here. (The weekend after Easter we will also again be hosting the Mosaix Regional Learning Lab!)
And we all, who with unveiled faces contemplate the Lord's glory, are being transformed into his image with ever-increasing glory, which comes from the Lord, who is the Spirit.
(2 Corinthians 3:18)
How will you be formed – and even transformed- in these weeks leading up to Easter, and beyond?
february 3, 2020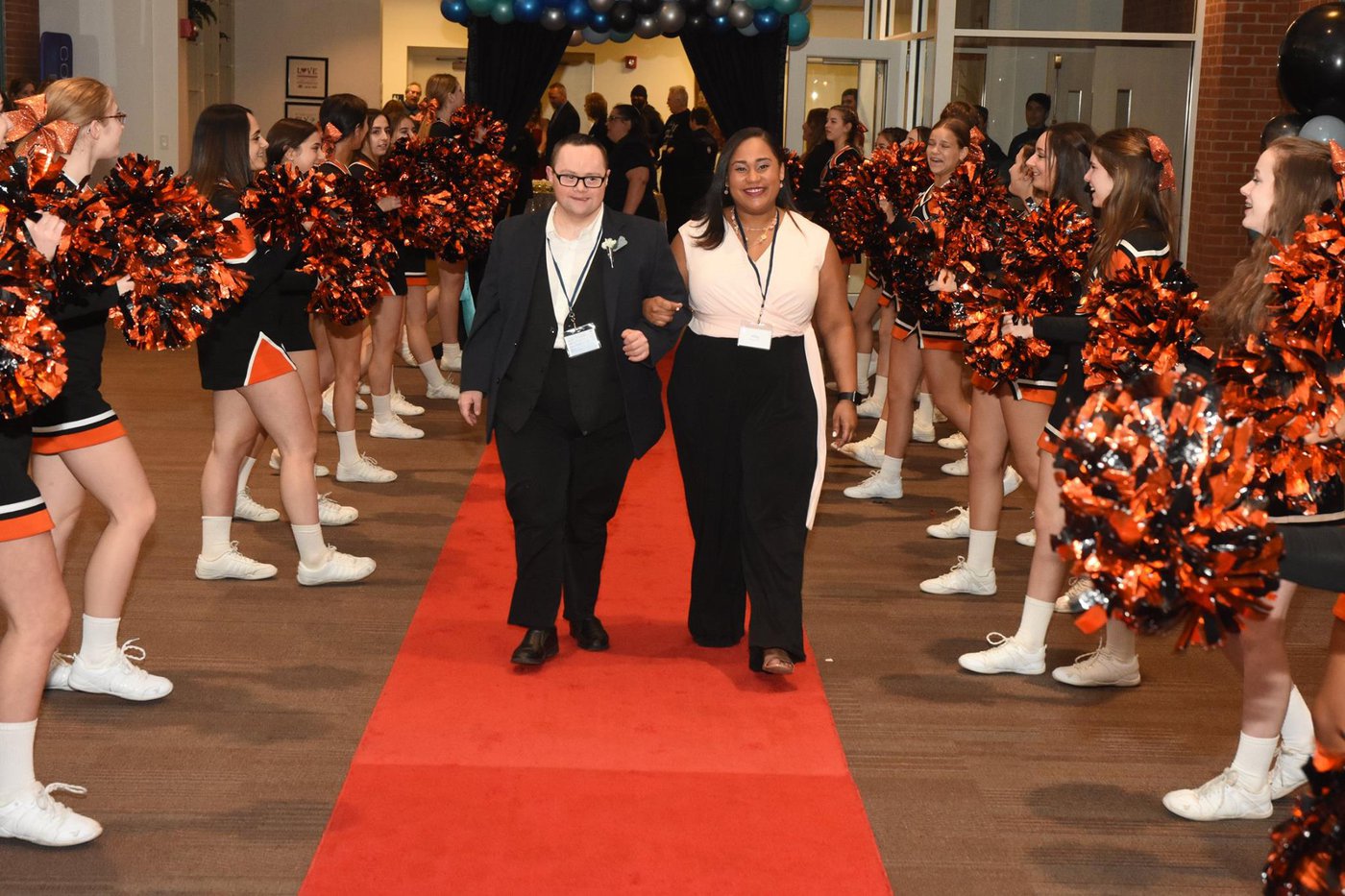 People will come from east and west and north and south, and will take their places at the feast in the kingdom of God. (Luke 13:29)
"We love Scott! We love Scott!"
That was the unexpected greeting Scott Norwood received when he and the rest of the team landed at the Buffalo airport after the 1990 Super Bowl (XXV) between The New York Giants and the Buffalo Bills. As Pastor Chip recounted yesterday in his message ("From Vision to Values: Safety"), with just 8 seconds left in the game, Norwood missed a 47-yard field goal . . . and the Bills lost the game. (For a link to the part of the message where Pastor Chip talked about Norwood, click here). Scott later said he didn't know what to expect from the crowd of 30,000 fans and that he really just wanted to stay behind the scenes, but the fans wouldn't let him. He said that after hearing the fans chant "We love Scott!" he "had never felt more loved than in that moment."
This coming Friday, Feb. 7th, Garfield Memorial Church will again host Night to Shine, a prom experience for adults and older youth who learn in special ways. Hundreds of volunteers help make this a night to remember as each of our guests is crowned "Prom King" or "Prom Queen." There will be dancing, karaoke, food, limo rides, paparazzi, and more. (If you would consider being a companion ("prom date") for one of our honored guests that night click here.)
It's an amazing evening from start to finish, but I am always moved by the incredible red-carpet welcome, led by a cheerleading squad, that each guest receives as he or she is escorted down the carpet by their buddy for the evening. The cheers and shouts of welcome have a visible impact on our guests as they experience the love and warmth of the crowd.
What if every guest at Garfield, every day of the year, received a welcome like Scott Norwood, or our honored Night to Shine guests did? If we proclaimed, "We love …." to everyone we encounter- by not only our words, but our actions, our demeanor, our love for all of God's beloved children?
We just might find that the world becomes a little brighter, and that every night (and day!) is a "Night to Shine."
december 23, 2019
How do you respond when someone asks you, "Are you ready for Christmas?"
At this point in the season- the day before Christmas Eve- many are scrambling to finish shopping, preparing for guests (or traveling to BE a guest), baking, cooking, doing laundry, or whatever last minute tasks remain to be done.
The New York Post carried a story last December reporting that, according to recent research, one in three Americans is experiencing- or will experience - "Festive Burnout" before December 25th, and that 68% of Americans consider the "holiday season" (Thanksgiving/Hannukah/Christmas) to be a "stressful" time. The researchers call it "festive stress."
I saw a graphic illustration of "festive burnout" this morning when I was walking our dog, Leah, and I couldn't help taking a picture & posting it on Facebook.
So, if you are identifying with Santa and Frosty the Snowman collapsed on the front lawn we passed, you're not alone!
But no matter where you are on the Festive Stress scale, we hope to see you tomorrow at one of our 5 Christmas Candlelight Celebrations (click here for details) and, we hope you will invite others to join you. (As we've said many times, the majority of people who don't currently attend church say they are likely to accept a personal invitation from a family member, friend, or neighbor to come to a worship service. People are especially receptive at Christmas.)
As the angel said to the shepherds on that first Christmas,
"Do not be afraid; for see—I am bringing you good news of great joy for all the people: 11 to you is born this day in the city of David a Savior, who is the Messiah, the Lord. 12 This will be a sign for you: you will find a child wrapped in bands of cloth and lying in a manger." 13 And suddenly there was with the angel a multitude of the heavenly host, praising God and saying,
14 "Glory to God in the highest heaven, and on earth peace among those whom he favors!" (Luke 2:10-14)
See you tomorrow when we will experience the joy and peace of Christmas together!
december 2, 2019
Matthew's gospel tells us that the baby that will be born to Mary & Joseph will be called "Immanuel" (which means "God with us.")" (Matthew 1:23) John's gospel says that the Word that was with God from the beginning became flesh and lived among us. (John 1:14)
Christmas reminds us that God doesn't stay far off in the distance, but he comes to be with us. Jesus enters our world of pain, brokenness, sinfulness and death, walking alongside us.
But as Pastor Chip shared yesterday, as we launched our December teaching series, "Where There's Night, There's Light (Christmas According to John)"(with Pastor Scott preaching in South Euclid),
God is not only with us; God is for us.
In his message, Pastor Chip shared a story he came across about an unusual password. Two friends were driving around, trying to navigate the busy streets of LA recently. The author of the piece said he asked his friend (who was driving) what his password was so he could access the GPS on his phone. The password? pro nobis. The writer goes on to say,
"I asked him what pro nobis meant and why he chose that for a password. He told me it was Latin and it meant "For Us" and then he suddenly started choking up. I thought, Why would those two Latin words cause so much emotion?
He composed himself and then explained that after walking through deep personal pain, true healing came when he learned that God is "for us"—or the Latin phrase pro nobis. My friend said that after his parents' divorce, a season when he assumed that God didn't care or that God had given up on him, he finally found hope through those two simple words. When he decided to believe that God was pro nobis, that God had even sent Christ to die for him, he could then decide to lay down his life for others."
The New Testament book of Romans says, "If God is for us, who can be against us? He who did not spare his own Son, but gave him up for us all—how will he not also, along with him, graciously give us all things?" (Romans 8:31-32)
Starting in November we have been talking a lot about giving; as we have shared, 30-40% of the funding for the ministry we share at Garfield Memorial in Pepper Pike, South Euclid & Liberia is received during the month of December. Every gift of any size is needed and helps to move the mission. Our "Did You Know?" videos have helped to tell the stories of how your generosity supports ministry at both our locations to children, youth, our online presence, outreach, evangelism, serving those less fortunate, and more. (Go to www.garfieldchurch.org/did-you-know to see the videos we've shown so far, with more to come this month.)
We hope these stories of how God is "widening the circle" through your giving (and, if you're new here, we really do mean it when we say we don't expect you to give!) inspire you.
But there's really only one reason we give: it's in response to what God has done for us: "God so loved the world that he gave …" (John 3:16) In doing that he proved he is truly for us…which makes me wonder, how am I, how are we, demonstrating that we are for him? For Christ's church?
We use passwords to unlock our phones, our apps, our online accounts….but only God can unlock our hearts and unleash our generosity.
Pro nobis. Thanks be to God!
October 14, 2019
Do not let any unwholesome talk come out of your mouths, but only what is helpful for building others up according to their needs, that it may benefit those who listen. (Ephesians 4:29)
"I'm red (choleric), my wife is green (phlegmatic), and we have a son (7) who is blue (melancholic), and a daughter (4) who is (very) yellow (sanguine). Learning about the temperaments has helped me be more patient with my son's need for safety and his cautiousness…and more understanding of why my daughter seems to never stop talking."
"After taking the temperaments assessment for my small group, I had my whole work team take the assessment and already I'm seeing a difference in their interactions and they seem to understand-and appreciate- one another better."
"I had felt like I never quite fit in but understanding my temperament - and talking with others who share my temperament- helps me realize that I do fit in and that I am not the only one who is like this [my temperament]"
"As a blue, I am grateful for the yellows in my life…or I might never get out of the house!"
"I have always felt very guilty about my needs as a yellow for acceptance, approval, attention & affection and while I still struggle some, I realize this is how God created me- and it's OK"
These are just a few of the comments we've heard these past few weeks from some of the hundreds of people at Garfield who are participating in one of the 6 week small groups based on Kathleen Edelman's I Said This, You Heard That that started a few weeks ago after Kathleen was with us as our guest speaker on September 15th. Edelman says there are 4 main temperaments for communication, which predispose each of us to speak and hear words in a certain way. Basically, everyone defaults to one of the below communication languages:
YELLOW: Speaks the language of people and fun!
RED: Speaks the language of power and control.
BLUE: Speaks the language of perfection and order.
GREEN: Speaks the language of calm and harmony.
When we understand the temperaments and learn to apply what we've learned, we can use our words to love others better and to live out the words of Ephesians 4:29.
On October 27th we are asking EVERYONE who has taken the assessment (whether as part of an "I Said This, You Heard That" small group, a volunteer team or maybe even at work) to wear something in the color of their dominant temperament to worship that day. There are going to be some fun surprises (Dreamed up by a certain very sanguine lead teaching pastor with the initials C. F.) that day too so you definitely won't want to miss worship!
August 28, 2019
Safi Bahcall (author of the Wall Street Journal bestseller, Loonshots: How to Nurture the Crazy Ideas That Win Wars, Cure Diseases, and Transform Industries and a recent guest on the Tim Ferriss Show podcast) says he took a class in hypnosis in grad school at Stanford (where he was studying physics) after he noticed half the Stanford football team was in the class. The class was taught by a physician from the Stanford Medical School who had written one of the classic books on hypnosis.
Bahcall says that the professor began by debunking some of the myths around hypnosis and argued that it's actually a natural state. The professor explained that, "in ordinary life there's something called the magic number seven. As you sit there, as I sit here, or as anybody sits down in your audience and imagines the world around them, they can be aware of roughly seven different things around them plus or minus two.[i] . . . Hypnosis is really the state of bringing that down to one. You're just focused on one thing. It turns out everybody, practically everybody, has the ability to go into a hypnotic trance…. we all go into this state of very heightened focus. If you're listening to music or you're deep in a book and when someone has to call your name a couple times and then you shake your head and snap out of it, you were in a trance, you were completely focused on just that one thing and that magic number seven plus or minus two in the world around you had just narrowed down to one."
Focus seems hard to come by when distractions are as close as the phones we hold in our hands, but we don't need technology to pull us away from what's really important. Luke's gospel tells us that when Jesus was at Mary & Martha's home to share a meal,
40 …. Martha was distracted by her many tasks; so she came to Jesus and asked, "Lord, do you not care that my sister has left me to do all the work by myself? Tell her then to help me." 41 But the Lord answered her, "Martha, Martha, you are worried and distracted by many things; 42 there is need of only one thing." (Luke 10:40-42)- drawing near to Jesus, sitting at his feet, and listening to what he says.
The apostle Paul knew something about staying centered:
12 Not that I have already . . . arrived at my goal, but I press on to take hold of that for which Christ Jesus took hold of me. 13 Brothers and sisters, I do not consider myself yet to have taken hold of it. But one thing I do: Forgetting what is behind and straining toward what is ahead, 14 I press on toward the goal to win the prize for which God has called me heavenward in Christ Jesus. (Ephesians 3:12-14)
John's gospel tells us that on the last night of Jesus' earthly life he was with his disciples, and after he washed their feet, he continued to teach them, saying, "A new command I give you: Love one another. As I have loved you, so you must love one another. By this everyone will know that you are my disciples, if you love one another." (John 13:34-35)
On Sunday we announced that Kathleen Edelman, author of I Said This, You Heard That, will be our guest speaker on September 15th at all worship services. Kathleen will be sharing how understanding our own, and other's, temperaments, can help us to live out Jesus' commandment to love one another better by communicating in ways that build up rather than tear down (Ephesians 4:29). You will not want to miss Kathleen on September 15th- and please invite anyone you can think of who wants to learn to communicate more effectively.
In the weeks following Kathleen's visit with us, we'll be launching new 6 week video-based I Said This, You Heard That small groups meeting at various days/times. You can sign up for the groups on Sept. 15th – if you want to learn how you can facilitate a group at a home or one of our church campuses, reply to this eNote & we'll be in touch.
Don't be distracted by the "many things" that try to command our attention, but come to worship on September 15th to hear more about I Said This, You Heard That, and how our wiring "colors" (affects) our communication and to begin to imagine the impact we could have if we all focused on the "one thing" of loving one another.
[i] From an article by Harvard profession George A. Miller, The Magical Number Seven, Plus or Minus Two Some Limits on Our Capacity for Processing Information